Save a life – register your defibrillator
March 14, 2018 | in AED, Media Releases, News
Victorians who own a potentially life-saving defibrillator are being urged to register them, as Ambulance Victoria today reveals the whereabouts of up to 15,000 automated external defibrillators (AEDs) is unknown across the state.
The chance of survival increases by 62% if a person in cardiac arrest is defibrillated by a bystander before an ambulance arrives.
When 32-year-old new mother Samantha Jobe collapsed after arriving at the gym, staff acted quickly to resuscitate her while an ambulance was on the way.
"Two people were administering CPR while another raced to borrow an AED from a neighbouring business. If they didn't know the defibrillator was there, it could have been a completely different outcome," said Ms Jobe.
Information about the location of registered AEDs is available through an online registry, and the data will also be passed on to first responders through new smartphone technology being introduced by Ambulance Victoria.
An estimated 2,500 AEDs are bought in Victoria each year but not registered, often meaning their location is not known to bystanders responding to a person in cardiac arrest.
Ambulance Victoria CEO, Associate Professor Tony Walker, urged AED owners, including schools, medical practices, businesses, community organisations and sporting clubs, to take a moment to register their devices online.
"In locations like corporate offices, gyms and bowls clubs across the state, for every life-saving defibrillator in the community we know about, there are four we don't," said Associate Professor Walker.
"By registering your defibrillator, you could save the life of someone in your local community."
The call out aims to identify AEDs in rural centres particularly, including Ballarat, Bendigo, Geelong and Shepparton, where registration is lower than in Melbourne.
"Over 40,000 people live in Wodonga yet I can count on one hand the number of defibrillators that are currently registered with Ambulance Victoria," Mr Walker said.
"Imagine what the map of Victoria might look like if every defibrillator in the area was registered and could be connected with someone in a life-threatening situation."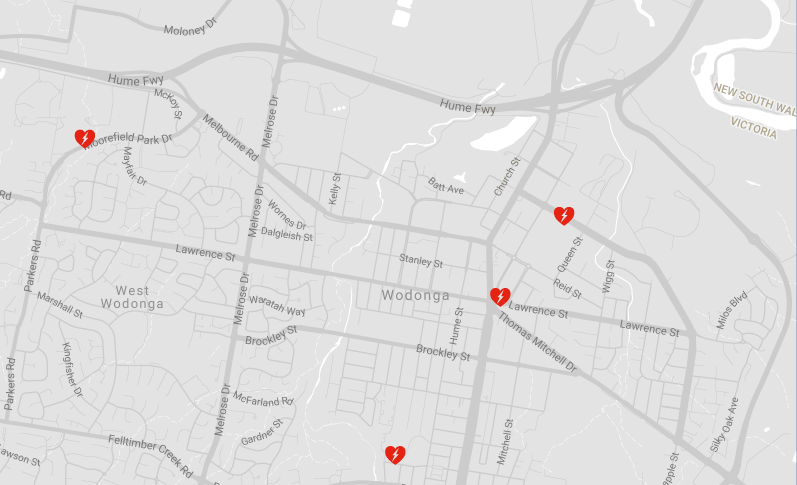 Mr Walker said saving lives was a team effort and bystanders could make a huge difference to a patient's outcome by administering CPR and using a defibrillator in the critical minutes before an ambulance arrives.
"Your AED could be the one that saves a life."
The callout comes just weeks after Ambulance Victoria released new data showing that over 6,000 Victorians a year suffer a cardiac arrest away from hospital, with an increasing number of cases in rural Victoria over the past ten years.
With the chance of survival reducing by up to 10% every minute that passes without defibrillation, Associate Professor Walker said that everyone has a role to play when it comes to an emergency.
"Bystanders can play a vital role in saving someone's life. When we arrive at a scene where bystanders have started CPR and used a defibrillator, I know that patient already has a better chance of getting out of hospital alive than if no one had stepped in."
Register your AED today, or find out where your nearest one is located on the Ambulance Victoria AED Registry.