Record survival rates for cardiac arrest in Victoria
January 22, 2020 | in AED, News, Research
New data from Ambulance Victoria confirms that Victoria is one of the safest places in the world to have a cardiac arrest.
The latest Victorian Ambulance Cardiac Arrest Registry (VACAR) Annual Report shows that use of publicly accessible defibrillators has tripled over the past decade, with 89% of survivors able to return home to their families, having benefited from the lifesaving intervention.
In the last financial year alone Ambulance Victoria has treated a record 6,000 cardiac arrest patients and has reported its fastest ever response times to cardiac arrest cases.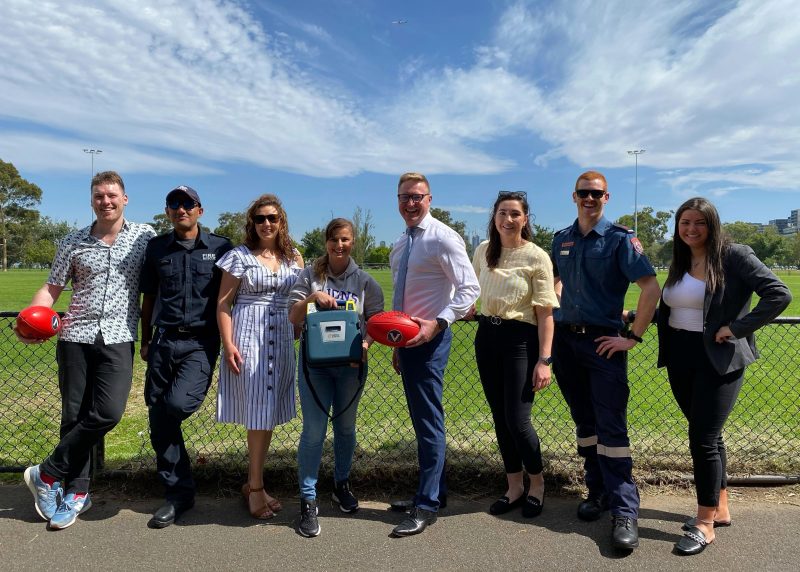 Stephen Clarke (centre with football) is alive and well today thanks to the quick thinking of bystanders
42-year-old Stephen Clarke was one of those people, when, in December 2018, he had just finished a footy training session.
As the team gathered to debrief, he began sweating profusely and felt light-headed, and shortly after fell to the ground, unconscious and without a pulse or heartbeat.
"My answer to myself in that moment was that I would have a shower and feel better, I thought I had a flu or virus, I didn't have any pain," Stephen explained.
"I was walking next to a teammate and he knew something wasn't right and I started to stumble."
Key to Stephen's survival was that a teammate knew exactly where a defibrillator was located at a neighbouring footy club, and ran to collect it.
Other teammates started CPR, while another called Triple Zero (000) and relayed the situation to the ESTA call taker.
Stephen's heart was shocked twice and within five minutes paramedics were on scene reviving him.
After 11 days at The Alfred hospital, Stephen's wife and daughter were absolutely delighted to have him home for Christmas, and he kicked off the new year by getting back to regular exercise.
"I was fit and healthy and never had a health issue, so it was an enormous shock," he said.
"It was incredibly seamless how the people on the ground with the defibrillator and the CPR worked with the fireys and the ambos, within minutes I was in a cardiac ward."
"I was very lucky to have people around me act quickly and act calmly."
Statistics included in the VACAR 2018-19 Annual Report
Ambulance Victoria CEO Associate Professor Tony Walker said Stephen's incredible outcome is the result of his teammates' quick thinking, along with the lifesaving treatment he received from paramedics, MFB firefighters and staff at The Alfred.
"We know minutes matter in a cardiac arrest and we know the sooner a person receives bystander CPR and defibrillation, the better their chance of returning home to their loved ones," Associate Professor Walker said.
"Our data shows that you are twice as likely to survive a cardiac arrest if a public defibrillator is used."
"We have also seen an increase in bystander CPR over the past decade with our latest VACAR report showing you are three times more likely to survive a cardiac arrest if you receive CPR before an ambulance arrives."
According to the internationally recognised Utstein measure rating, Victoria has one of the best cardiac survival rates in the world, thanks to a number initiatives such as the GoodSAM app.
The GoodSAM app connects Victorians in cardiac arrest with responders and defibrillators in the critical minutes before paramedics arrive.
"It takes a community to save a life and I encourage everybody to embrace these by learning CPR, signing up to GoodSAM and organising a public defibrillator for your community or workplace." Associate Professor Walker said.
VACAR is one of the world's largest registries of out-of-hospital cardiac arrests, and one of the few that routinely follows up on survivors' quality of life to drive improvements to patient outcomes.
The VACAR Annual Report has been collecting data for more than 20 years.