RACER for aged care residents
The Residential Aged Care Enhanced Response (RACER) Pathway
The RACER pathway is an alternative care pathway that better connects and coordinates Triple 000 calls from residential aged care facilities (RACFs) to meet the patient's needs and avoid unnecessary ambulance dispatch and transport to hospital emergency departments. RACER uses the existing Victorian Virtual Emergency Department (VVED) infrastructure to connect patients to a telehealth service.
It is the first alternative care pathway under the AV Care Connect initiative, which includes four streams of work depending on the patient cohort. 
The RACER pathway commenced on Thursday 11 August 2022 beginning with patients who have been triaged as requiring non-emergency transport (in Stage 1) to ensure that the pathway is comprehensively tested in operation and safety netted before it expands to lower acuity patients from the emergency patient cohort (in Stage 2). A date for this Stage 2 expansion has not yet been set.
How the RACER pathway works
Before the introduction of the RACER pathway, all calls made from a Residential Aged Care Facility (RACF) to Triple Zero (000) have historically been triaged via the standard ESTA call taking process. This has meant that over 90% of calls from RACFs that receive an ambulance response result in the patient attending an Emergency Department – which is not always the best place for them. We know we can do more to connect older patients in RACFs to more appropriate care in the first instance.
That's why, once the entire staged approach has been implemented under RACER, the pathway will utilise the existing Victorian Virtual Emergency Department (VVED) infrastructure as follows: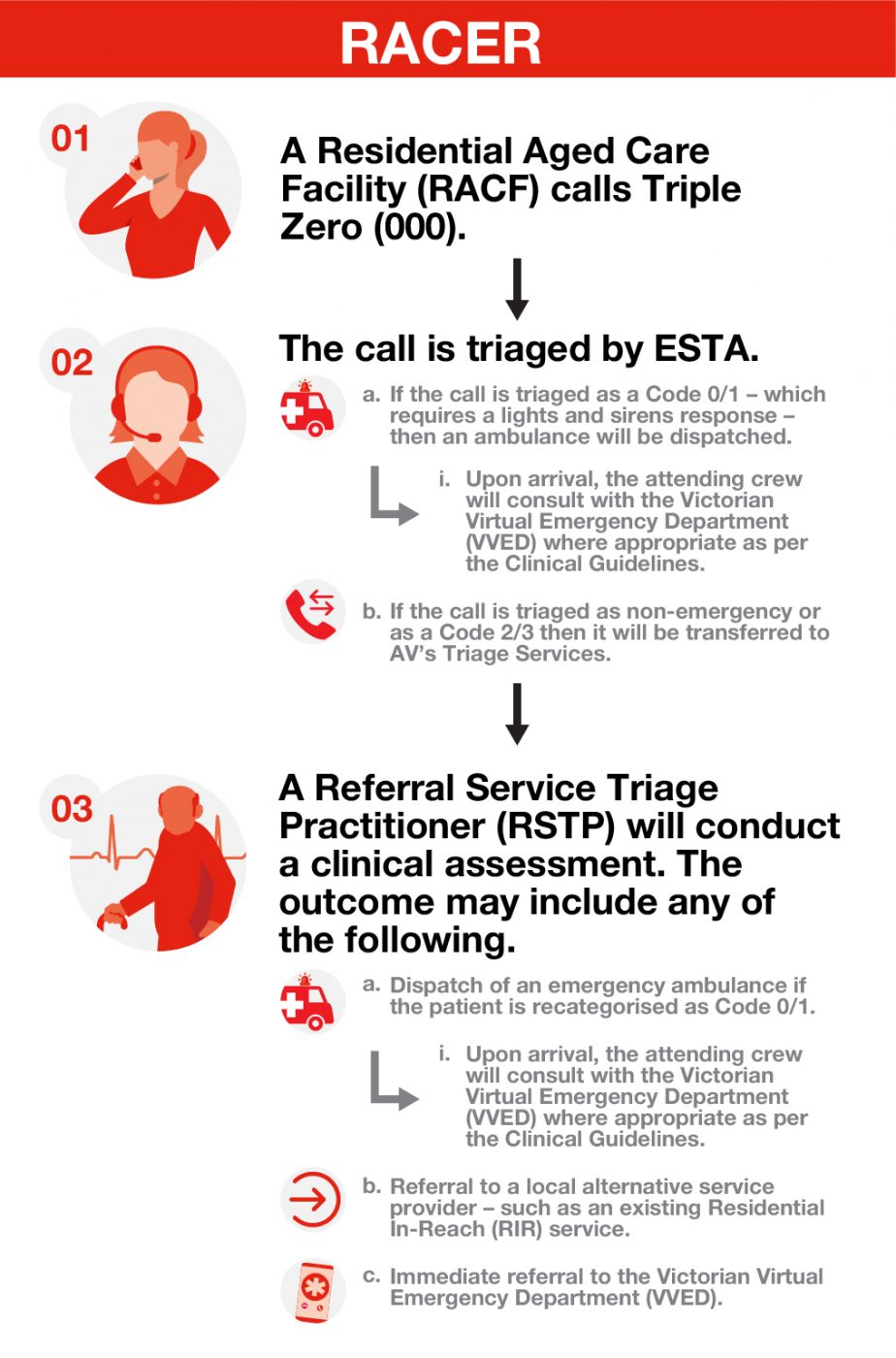 How RACER benefits patients and the health system
RACER, which is a Patient Care Academy (PCA) initiative:
improves the patient experience and outcomes for RACF residents, their families, and carers.
provides access to the right services for the resident/patient's needs within RACF services.  
reduces the risk of delirium and healthcare acquired trauma, infections and mortality that can be associated with hospitalisation of older people.  
reduces unnecessary transport of older patients to emergency departments. 
reduces non-urgent call outs and improves ambulance availability for the acutely unwell. 
In 2020 and 2021, other PCA initiatives such as TelePROMPT improved patient experiences and outcomes by reducing unnecessary transports to emergency departments (EDs) and offering more appropriate care pathways to meet the increasingly complex needs of the community.