Development of the next Ambulance Victoria Strategic Plan
AV's next strategic plan will be designed to reflect Ambulance Victoria's commitment to our community, patients, partners and our people, and outline how we will continue to provide world-class patient care in the face of increasing demand, high community expectations, changing demographic profiles and more patients with complex chronic health conditions.
We will look at new and more efficient ways to provide our services and investigate how emerging technologies can help us be more effective. We will continue to focus on patient outcomes through identifying innovative ways to deliver services, utilising research and data to improve performance and implementing changes needed.
Update on development of the next Ambulance Victoria Strategic Plan
Ambulance Victoria commenced development of the organisation's next Strategic Plan in 2021.  During August and September last year, we engaged with our community, stakeholders, and our people to explore the emerging ideas and directions to inform the new Strategic Plan; we invited you to have your say, share your experience and expertise to help set the future direction of our organisation.
There was a tremendous response to the 'have your say' campaign with over 3,000 responses received from the community, stakeholders, and our people.  Thank-you for your valuable contribution to this process.  We have synthesised the insights which will inform detailed shaping, discussion, and decision-making for the next Ambulance Victoria Strategic Plan.
Where are we up to?
In late 2021, Ambulance Victoria undertook a review of business priorities and decided to place development of the next Strategic Plan on hold, and to extend the 2017-22 Strategic Plan through to June 2023.  This change is supported by the Department of Health and has been endorsed by the Minister for Ambulance Services.
Extending the current plan allows us to focus on operational priorities and rebuild following peak COVID demand.  It will also allow the next Strategic Plan to respond to emerging social and wider health system reform post-COVID and consider the Victorian Equal Opportunity and Human Rights Commission Review (VEOHRC) Volume 1 (Nov 2021) and Volume 2 (March 2022) findings.
The 2017-2022 Strategic Plan key outcomes of 'An exceptional patient experience', 'Partnerships that make a difference', 'A great place to work and volunteer' and 'A high performing organisations' are still relevant and delivery will be supported through the Ambulance Victoria 2022-23 Business Planning processes.
Next steps
Development of the next Ambulance Victoria Strategic Plan will recommence mid-2022 with the Plan to be endorsed by June 2023.
Questions
If you have any questions, please view our frequently asked questions , or email the Strategic Planning Team on strategicplan@ambulance.vic.gov.au
About AV's current strategic plan
We are changing the way we deliver emergency ambulance services to the Victorian community.
Our Strategic Plan 2017-2022 outlines how we will continue this reform to provide Victorians with a world-class emergency ambulance service over the next five years.
Our plan focuses on achieving four key outcomes:
Providing an exceptional patient experience
Working closely with our partners to make a difference
Making Ambulance Victoria a great place to work and volunteer
Developing a high performing organisation
Twice a year we report how we're progressing with delivery of these outcomes through our Strategic Plan Progress (PDF) reports.
The Strategic Plan is our commitment to continue working with our people, patients, partners and communities to continue to transform the way we work, further improve our performance and deliver our best patient care.
To learn more about our strategic plan, watch these videos
Increasing demand on our services, more complex patient needs, changing community expectations of the way we work and the likelihood of more major incidents and extreme weather events will continue to test us.
Our Strategic Plan provides the best foundation to rise to these challenges and make our organisation better, stronger and more responsive to community needs.
At the heart of everything we do is our Patient Care Commitment, which is our promise to every patient to provide them with a safe, caring, effective and connected experience.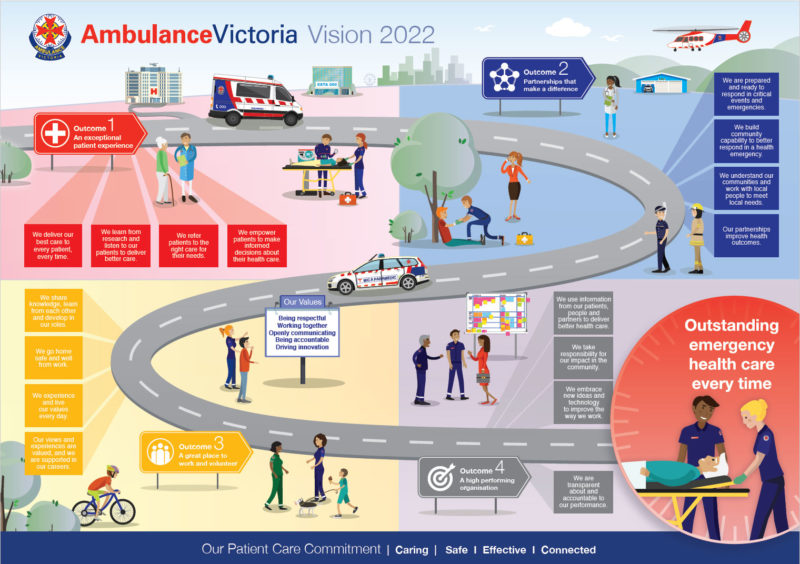 Strategies and plans that support our Strategic Plan
Our strategic plan is supported by a number of sub-strategies and plans. Find out more: