Record number of Victorians surviving cardiac arrest
February 20, 2018 | in Community News, News
A record number of Victorians are surviving cardiac arrest and a record number of bystanders are coming to the aid of others in their time of need.
The latest Victorian Ambulance Cardiac Arrest Registry (VACAR) Annual Report shows a record 379 survivors were discharged alive from hospital in 2016-17, a record and 21 more people than last year.
The report shows 37 per cent of people who were seen to collapse, whose heart was in the most treatable cardiac rhythm (ie able to be shocked by a defibrillator) and then received resuscitation by emergency services in 2016-17 survived. In greater Melbourne, 38 per cent of these patients survived compared to only 30 per cent in London.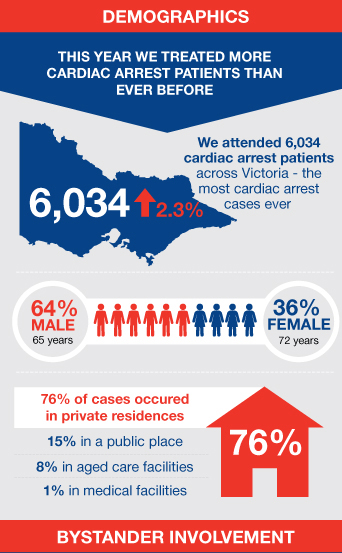 It also found more bystanders than ever were stepping in to save lives. Members of the public defibrillated a record 80 people in cardiac arrest and more than 60 per cent of bystanders who witnessed someone collapsed in cardiac arrest gave cardiopulmonary resuscitation (CPR), up from 42 per cent a decade ago.
Paramedics are also responding to cardiac arrest cases faster than ever before, with a median response time of 7.7 minutes.
A cardiac arrest occurs when a person's heart suddenly stops beating and requires immediate CPR and defibrillation.
Ambulance Victoria paramedics attended more than 6000 out-of-hospital cardiac arrest events in 2016-17.
Ambulance Victoria CEO Associate Professor Tony Walker said every second counted when someone was in cardiac arrest.
"Early effective CPR and defibrillation greatly improves a cardiac arrest patient's chance of survival,'' Associate Professor Walker said.
"If you see someone in cardiac arrest, call Triple Zero (000) for an ambulance and start CPR. The trained Triple Zero call-taker will provide instructions on how to do this.''
Associate Professor Walker said it was estimated less than 20 per cent of defibrillators in the community were registered with Ambulance Victoria.
"We're calling on defibrillator owners to register their location with Ambulance Victoria to make defibrillators available to people who need them, when they need them,'' he said.
"Your defibrillator could save a life. Register it with Ambulance Victoria today at ambulance.vic.gov.au/register.''
Lead researcher and Director of AV's Centre for Research and Evaluation, Professor Karen Smith said AV's comprehensive cardiac arrest registry and associated research program improved patient care and outcomes.
"The VACAR Annual Report paints a comprehensive picture of cardiac arrest care and outcomes in Victoria and is internationally recognised,'' Dr Smith said.
"We are one of the few out-of-hospital cardiac arrest registries to routinely follow up on survivors' quality of life. The report shows 77 per cent of patients who were working prior to their cardiac arrest returned to work within a year.''