Belgrave Heights parkrunners in the race of their lives
September 30, 2022 | in Community News
A runner who survived a cardiac arrest during his weekly parkrun event says he was "in the right place when the wrong thing happened".
Grandfather Gerard Bakker was running in the 5km race at Birdsland Reserve in Belgrave Heights when he started to feel niggling back pain.
Gerard running at Birdsland parkrun a few weeks before his cardiac arrest.
"I've had my back pain checked out by doctors, and once I warm up I'm okay, but on this particular day it was quite painful. I had to run, walk, run, walk and I took off and the next thing I know I was out," Gerard recalls.
"I woke up and had a bit of a chuck and I saw all these people around me…It was a cast of thousands.
"I remember one of the paramedics said to me: 'Welcome back, you are okay, you've just had a cardiac arrest."
Gerard recovering in hospital a few hours after his cardiac arrest.
Gerard's youngest daughter, Natalie—who was also running in the event—said she thought something was odd when she caught up to her dad at the 2km mark.
"We don't usually run together because he's significantly faster than me, he's a very fit man," she said.
"We walked together for a bit and he was saying that he was cold and his back was hurting, then he said 'Okay, let's go' so we started jogging and before I knew it, he made a noise and tumbled to the ground.
"He stopped being able to breathe so I rolled him on his back and just started CPR (cardiopulmonary resuscitation)."
Natalie said despite being the first aid officer for her workplace, she had never used her skills before.
"I started CPR and at about 30 seconds in, I thought I was going to vomit because it was such a stressful situation. That's when the other bystanders took over," she said, referring to fellow parkrunners Steph, Jamie, Nathan and Adam.
Jamie, who was the event's tail walker, Nathan, Adam and Birdsland Reserve Run Director Steph Prujean all stepped in to help with CPR and defibrillation.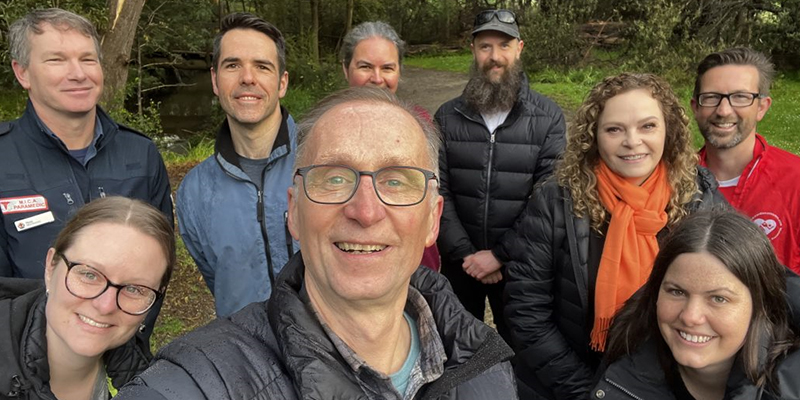 Gerard reunites with the team of bystanders who performed CPR and used the parkrun defib, as well as paramedics.
Steph said she recognised the runner in trouble was "Gerry" – a work colleague.
"When I got there and saw it was him, I don't know, I just dropped to my knees and we were tag teaming doing CPR," she said.
"Someone was on the phone to Triple Zero (000) and they were fantastic. We shocked him with the defib about three times."
Ambulance Victoria paramedic Claire Stewart said Gerard's case was a perfect example of how early bystander intervention is critical in the minutes after a cardiac arrest.
"We were fully preparing to manage the patient, but the bystanders had been able to reach ROSC (return of spontaneous circulation)," she said.
"The bystanders really did all the hard work; it was amazing that he was alert when we reached him.
"They really were the heroes on this one and without them it definitely would have been a different event."
Also responding to Gerard's case was Laura Valentine – a nearby GoodSAM (Smartphone Activated Medic) volunteer, who was notified via the free smartphone app linked to Triple Zero (000) that alerts when someone nearby is in cardiac arrest.
"He really is the poster boy for early intervention," Laura said.
"To have people running around him who knew CPR and to have a defib so close by, he was in a good place.
"You don't need to be an emergency doctor to be a GoodSAM responder, all you need to do is CPR and have a go at applying a defib."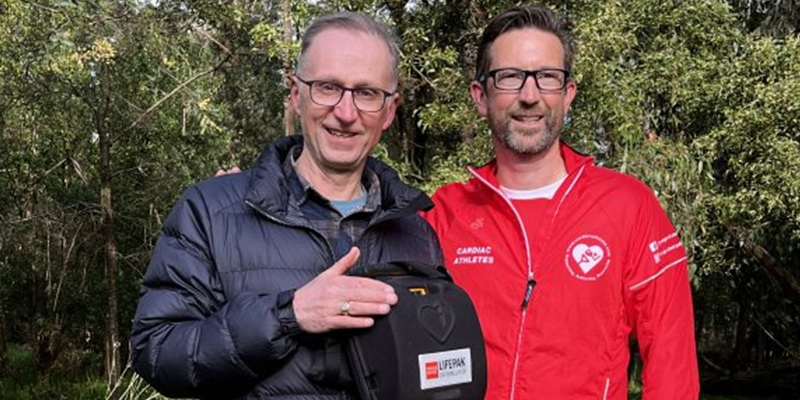 Gerard meets Brett Orpwood, who has also experienced a cardiac arrest at a parkrun and donated the defib that saved his life.
Another special touch to Gerard's incredible story is that the defibrillator that helped save his life was donated by another running enthusiast who survived a cardiac arrest at a parkrun event five years ago.
Brett Orpwood survived a cardiac arrest while running in the Mullum parkrun just days before Christmas in 2017.
Since recovering from his own cardiac arrest, Brett has gone on to share his experience as a defibrillator advocate and ambassador, enabling him to donate 23 defibrillators to parkrun sites across Australia and one in New Zealand.
"It's a pretty special feeling knowing that a donated defib helped save a life and that's something worth celebrating," Brett said.
Gerard reunites with ALS paramedics Aimee Dwyer and Claire Stewart who treated him.
Gerard made such a remarkable recovery that he was able to return to work three weeks later.
In September, Gerard was able to be reunited with the team of bystanders and paramedics who saved his life.
Every October, Ambulance Victoria celebrates Shocktober, a month-long campaign which aims to improve cardiac arrest survival rates by creating awareness of the crucial first minutes following a cardiac arrest and encouraging all Victorians to learn CPR, register to become a GoodSAM responder and know where your local AEDs are.
For information about the Shocktober campaign, visit ambulance.vic.gov.au/call-push-shock/
For information about the GoodSAM app and how to sign up, visit heartrestarter.com.au.
To learn how to do CPR and use an AED (defib), visit ambulance.vic.gov.au.