The call that saved Eltham dad's life
October 21, 2016 | in AED, Community News
Eltham man Philip MacIsaac remembers everything from 16 January last year, except for 'being on the floor dead'.
The long-standing ambulance member recalls felling unwell, putting a video on for his children and making sure his wife was okay, as he called an ambulance.
'I knew that there was something happening and made a decision to call.' Philip said.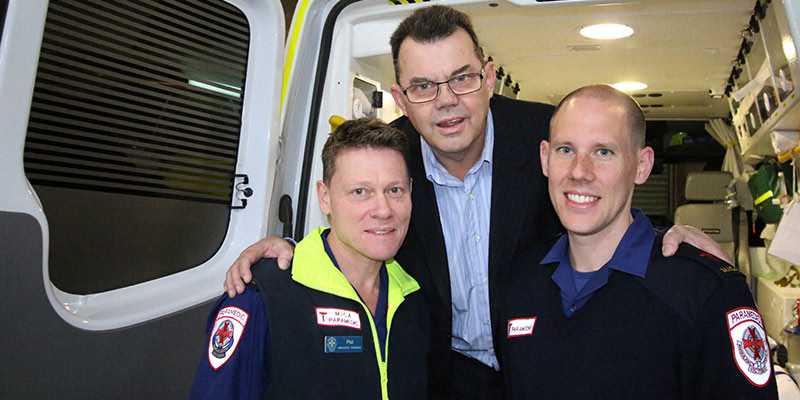 When MICA paramedics Phil Morey and Nathan Widdeson arrived, Philip's chest pain had worsened.
The paramedics used a 12-lead ECG to diagnose Phillip was having a heart attack.
MICA Paramedic Phil Morey said not long after that Phillip went into cardiac arrest.
'He had two rounds of CPR and two shocks from a defibrillator. He then started to wake up and his conscious state continued to improve,' Phil said.
'We don't often witness someone having a cardiac arrest in front of us. The beauty of this case is we were there and able to defibrillate early on and quickly get a return of circulation.'
Philip's ECG was then faxed to the hospital emergency department to alert the cardiology registrar. It enabled the catheterisation lab to be prepared to clear the blockage that caused Philip's heart attack and cardiac arrest.
Nathan had been a paramedic for seven years but only a MICA paramedic for two months when he was called to Philip.
'I remember Philip looked extraordinarily unwell,' Nathan said.
'He was pale, he was sweaty, and he was agitated. We gave him quite a lot of pain relief to settle him, and soon after that he went into cardiac arrest.
'We defibrillated him straight away, moved him on to the floor and with a little bit of CPR he was back with us.
'To have someone go into in cardiac arrest in front of you and 10 or fifteen minutes later be talking to you on the way to hospital about his family is extraordinary, it's great.'
Philip was pleased to be able to meet Phil and Nathan to say thanks.
'You can't thank them enough which is why I am really grateful to look them in the eye and thank them personally today,' he said.