Gisborne South mum thanks husband and paramedics
June 13, 2017 | in AED, Community News
A Gisborne South woman who suffered a cardiac arrest at her home has been reunited with the paramedics who helped her.
Mother-of-two Ulgen Babacan was asleep one night in April when she made a loud noise that woke her husband of more than 30 years, Deniz.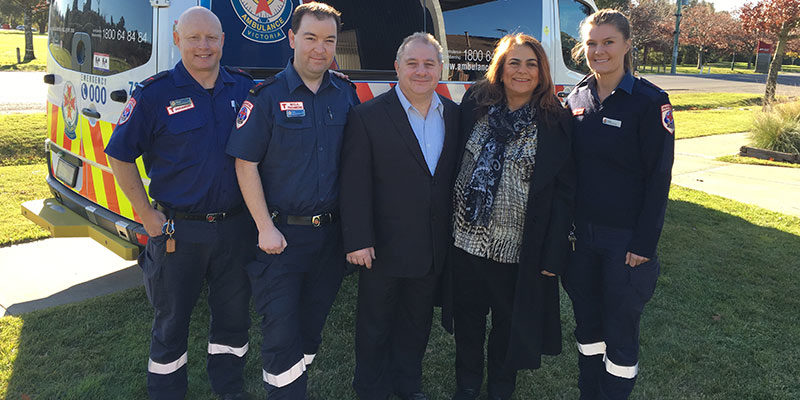 'The last thing I remember before my cardiac arrest was that I had gone to sleep,' Ulgen, 53, said.
'A week before my arrest, I had been experiencing some tightness in my chest but I went to the doctors, did a few tests, and everything came back normal,' she said.
Deniz said he heard what he thought was snoring but after listening again thought the noise was unusual.
'When I heard the noise that Ulgen was making I gave her a nudge to the ribs,' Deniz said.
'When she didn't move I gave her a second nudge and, when she didn't move again, I immediately thought something was wrong.'
Deniz turned on the lights and quickly called Triple Zero (000).
He followed the call-taker's instructions and moved Ulgen on to the floor before commencing cardiopulmonary resuscitation (CPR).
'I left the phone on loud speaker so I could listen to the call-taker and continued doing CPR until the paramedics arrived,' Deniz said.
Advanced Life Support (ALS) paramedics Stephen Riley and Jayda Hunter were first on scene.
'When we walked into Ulgen's bedroom, Deniz had moved her from the bed and was attempting CPR,' Stephen said.
'He was doing the very best CPR he could, which made a big difference in this case.'
Stephen said he and Jayda moved Ulgen so they had more room to treat her and Stephen took over CPR while Jayda prepared to attach the defibrillator.
A defibrillator is used to analyse a person's heart rhythm and shock the heart if they are in cardiac arrest.
'This shock is crucial to allow the heart to function normally again,' Stephen said.
'Jayda and I shocked Ulgen once.'
Mobile Intensive Care Ambulance (MICA) paramedics then continued treating Ulgen.
Stephen said that early CPR and defibrillation were key links in the 'chain of survival' – a process which can help save the lives of people in cardiac arrest.
The six steps in the 'chain of survival' are, early recognition of cardiac arrest, early access to emergency care (calling Triple Zero), early CPR, early defibrillation, early advanced care (paramedics) and definitive care (hospital).
Ulgen spent more than a month in hospital, including just over three weeks in intensive care. She is now recovering at home after having a pacemaker fitted.
Stephen said he was delighted that Ulgen was doing well, and it was fantastic that the paramedics who attended her case had the opportunity to meet her and Deniz under better circumstances.
'I've been a paramedic for more than 20 years and I have never had the opportunity to meet with a cardiac arrest survivor,' Stephen said.
'Kudos to Deniz, he did such a great job with CPR before we arrived and should be congratulated.'
Ulgen and Deniz said they couldn't thank the paramedics enough for what they did.
'I was very excited to meet the paramedics,' Ulgen said.
'It's because of them that I am here today – and I am expecting my first grandchild in November, so I have plenty to look forward to.'
You can learn more about CPR at www.ambulance.vic.gov.au/cpr