Young sisters awarded for helping dad get emergency care
February 6, 2017 | in Community News
Sisters Sophie and Annabel Matthews have been commended for their crucial role in getting emergency care for their dad when he had a seizure at home in October 2016.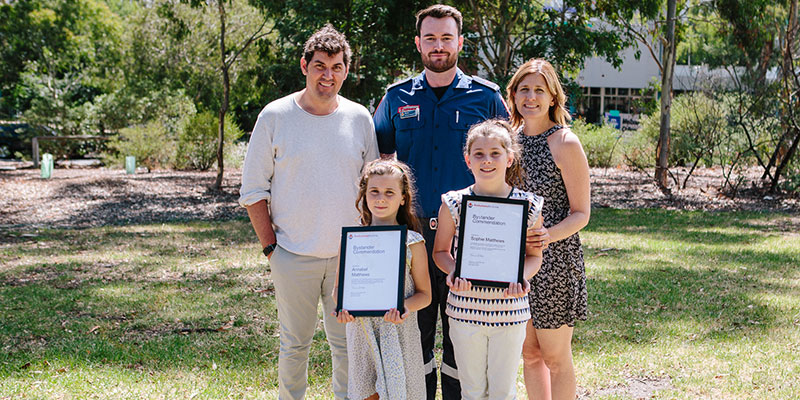 The pair were relaxing in front of the TV after school one day when Annabel, 7, heard her dad, Luke, in distress downstairs.
'I just heard a noise so I thought I'd go check on Dad, I went downstairs and he was having a seizure,' Annabel said.
'I came running down the hallway and screamed at Sophie that Dad was seizing so then she came down and called Triple Zero (000) and I moved everything dangerous away. We both did our roles.'
Their roles – which included Sophie, 9, calling Triple Zero (000) with the details of the home address and Luke's medical history and Annabel clearing the way and waving down paramedics – had been meticulously practised by the girls over the preceding year.
After a bicycle accident in 2015 left the father-of-three with a brain injury, Luke and his wife, Karen, decided to teach their daughters how to respond to an emergency situation.
'We had drills periodically just in case we had an emergency situation. We didn't realise it would be a seizure but we did practise for that… we had Luke practise having a seizure and the girls all had jobs to do,' Karen said.
The family practised dialling Triple Zero (000), talked about what the operator might say, ensured the girls knew their home address and stressed the importance of listening.
'You're in a situation that's highly stressful for an adult, let alone a child, so being able to compose yourself and being able to listen to the operator so you can help is really important,' Karen said.
All that practice paid off, with the girls proving exceptionally competent and able to get care for their father within eight minutes.
Paramedic Adrian Martin was impressed with their efforts and nominated the girls for a bystander commendation.
'Annabel and Sophie have potentially saved their father's life,' he said.
'Often when we go to scenes we have no idea what's going on and we have to piece things together.
'I just thought it was an amazing job how Annabel and Sophie could tell us in great detail what had happened and their father's medical history.
'Often adults do not perform to the degree that these kids did.'
Luke was in hospital overnight before heading home to his family.
He has since listened to his daughter Sophie's Triple Zero (000) call.
'It gives me chills every time I listen to it, it just blows me away that the voice on the call is my kid Sophie. It's just incredible.
'How lucky I am that I've got such an amazing little 9-year-old who was able to follow the process that we had taught her.'
Sophie and Annabel were presented with certificates at a reunion with Paramedic Adrian and Emergency Services Telecommunications Authority call taker Carla Henriksen.
For Luke, meeting one of the paramedics who treated him was an opportunity to piece together part of his medical journey.
'It's always good to put faces back to various roles, especially paramedics. I've dealt with a lot of paramedics through my condition over the last couple of years and every paramedic I've dealt with has been fantastic.
'All Ambulance Victoria's paramedics have been brilliant, so to see Adrian again has been great.'
Karen and Luke know how different their situation could have been without training and encourage all families to teach their kids to how respond to emergency situations.
'Nobody wakes up thinking they are going to have an emergency in their home that day, these things happen all the time and you never realise it's going to be your turn,' Karen said.
'Nobody ever wants their children to have to make a Triple Zero (000) call but life happens and it's unpredictable so it's really important that kids know how to do it.
'I'm so incredibly proud of them.'
To teach your kids how to respond to an emergency, make sure they know the number to call (Triple Zero – 000) and know they will be asked if they need police, the fire brigade or an ambulance.
They need to give the address and tell the call taker exactly what happened, staying on the phone until they are told to hang up.
Because many accidents happen in the home make sure they know their home address and a contact phone number.
For more information visit the Ambulance Victoria education page.