Warning Signs education campaign is saving lives
November 8, 2016 | in News, Research
New research shows a push to have people recognise the signs of a heart attack has led to saving 1300 lives across Melbourne in four years.
The research published in the European Heart Journal found the Heart Foundation's 'Warning Signs" education campaign prevented one-in-six heart attack patients deteriorating and suffering a fatal cardiac arrest between 2009 and 2013.
Ambulance Victoria and Monash University conducted the research with Heart Foundation Victoria through an analysis of cardiac arrest cases recorded by the Victorian Ambulance Cardiac Arrest Registry (VACAR).
Heart Foundation Victoria CEO Kellie-Ann Jolly said a common cause of cardiac arrest is heart attack, particularly when treatment is delayed.
"The sooner a person recognises the warning signs of heart attack and seeks medical help, the sooner treatment can be provided to give the person a greater chance of survival.'
Wonga Park man Warwick Wind is proof of the importance of an early triple zero [000] call, after suffering a heart attack and cardiac arrest in June.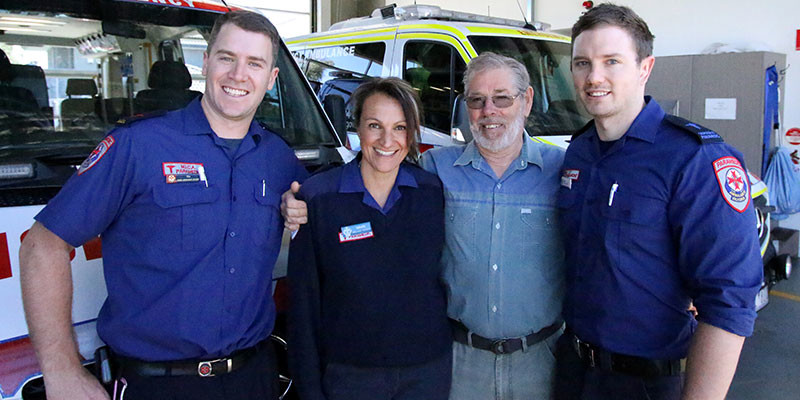 'Walking towards the house I started to feel pain. I went inside and sat down and told my wife I am in a lot of pain, I don't know what's wrong but I am having trouble breathing,' Warwick said.
Warwick told his wife he should go to hospital and she should call the ambulance.
'If we hadn't have rung the ambulance and I had hopped in the car and been driven to hospital I probably would've been dead half a kilometre down the road'
'When I was in hospital all of the nurses and the doctor said I would've been dead before I got to hospital so having the paramedics arrive saved my life.
Paramedic Ishelle Pollard treated Warwick and said was incredibly unwell.
'It was clear he was having a heart attack,' she said.
'If he had been in the backyard and collapsed while he was doing the gardening, and his wife didn't find him – these are the sort of heart attacks that people drop dead from'.
Ishelle, paramedic Jesse Smith and MICA paramedic Tim Andrews recently caught up with Warwick who wanted to say thanks.
Ishelle said it was great to see him so well.
'It's so nice that what we can do can help people – that he can see his grandkids grow up.'