Mill Park grandfather thanks strangers and paramedics
March 16, 2017 | in Community News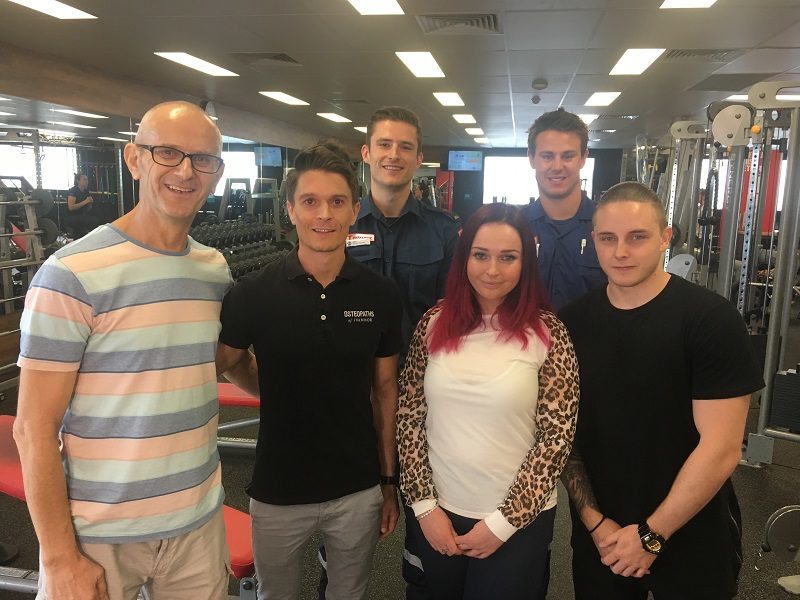 A Mill Park grandfather-of-one who suffered a cardiac arrest at a Jetts Gym Reservoir was reunited with the bystanders and Ambulance Victoria paramedics who came to his aid.
Senudin Porcic is living proof that more Victorians than ever are surviving cardiac arrest as revealed in the 2015-2016 Victorian Ambulance Cardiac Arrest Registry (VACAR) Annual Report.
Senudin, 56, had been on the treadmill moments before he collapsed on February 10.
'I would usually go to the gym at least five days a week, before heading to work, and that morning was no different,' Senudin said.
'My usual schedule was to wake up early, arrive at the gym just before 6am, and then head to work,' he said.
Seconds after Senudin collapsed, several gym members went to help.
Saul Smith was among bystanders who gave Senudin effective Cardiopulmonary Resuscitation (CPR), while several other bystanders including Michael Corneille and Leah Crowe assisted in any way they could.
Leah was on the phone to Triple Zero (000) and located the the Automated External Defibrillator (AED).
An AED is used to analyse a person's heart rhythm and shock a person's heart back into normal function if they are in cardiac arrest.
Several other members helped move Senudin into the recovery position and assisted paramedics upon their arrival.
Saul said when he saw Senudin laying on the ground, he saw he was in a bit of distress, but initially thought that he had fainted.
'We soon realised that Senudin's colour was changing, and he had no pulse. We were already on the phone to 000 and then we were guided to commence CPR,' Saul said.
'I was taking turns doing CPR with another gentleman before the ambulance quickly arrived.'
Saul said it was the first time he had saved someone's life.
'It's amazing to see Senudin back on his feet, and it was also nice to meet his family,' he said.
'When gym manager Mark told me that Senudin had pulled through, it was a beautiful moment to know the other bystanders and I had been able to make a difference to Senudin.'
Advanced Life Support Paramedic (ALS) David Neely and his partner were first on scene and said that, without a doubt, the efforts of the bystanders saved Senudin's life.
'When my partner and I arrived, Leah was holding the door open for us and told us that Senudin wasn't breathing,' David said.
'Two bystanders, including Saul, were doing great CPR on Senudin,' he said.
David attached a defibrillator to Senudin and shocked him several times.
Paramedics then attached the LUCAS chest compression system – a mechanical CPR device – to continue CPR before they defibrillated Seundin again. His pulse returned soon after.
Mobile Intensive Care Ambulance (MICA) Paramedics then intubated Senudin – which is where a breathing tube is inserted to help the patient to breathe.
Senudin's story serves as a perfect example of how important bystanders are and how critical early CPR is when somebody suffers a cardiac arrest.
'What you do before emergency services arrive can greatly improve the chances of someone's survival. Any attempt at CPR is better than none,' David said.
This case demonstrates how bystanders are the critical first link in the 'chain of survival'.
'Early CPR and defibrillation are a key links in this 'chain of survival' – a process which can help save the lives of people in sudden cardiac arrest,' he said.
'The six steps in the 'chain of survival' are, early recognition of cardiac arrest, early access to emergency care (calling Triple Zero), early CPR, early defibrillation, early advanced care (paramedics) and definitive care (hospital).'
Senudin spent less than two weeks at The Austin Hospital after having six coronary artery graft surgeries to improve the blood flow to Senudin's heart.
He is now recovering at home.
Senudin said, all the people around him the day he fell unwell were very helpful.
'I can't thank them enough for saving my life and for the Ambulance getting to me quickly – they all gave me another chance to live my life,' Senudin said.
'If I had had my arrest anywhere else with nobody around, then the situation could have been very different,' he said.
David said that the result could have been very different for Senudin had bystanders not quickly initiated CPR.
'I can't believe how Senudin has had such a speedy recovery – it was great to see him and his family under much better circumstances,' David said.
'This case has been one of the best cardiac arrest scenarios I have been involved with, and given Senudin is a father and a grandfather, it was nice to see him doing really well.'
You can learn more about CPR at www.ambulance.vic.gov.au/cpr