MICA Paramedic Receives Prestigious Churchill Fellowship to Research Dementia-Friendly Ambulances
January 25, 2023 | in News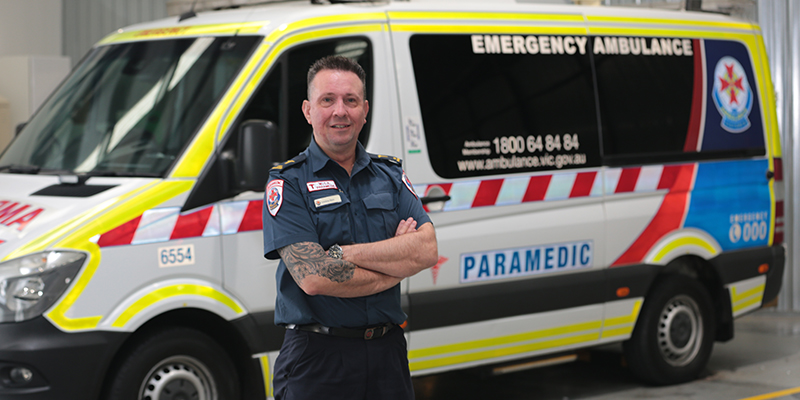 MICA Paramedic, Lindsay Bent has received a prestigious Churchill Fellowship to research dementia-friendly ambulances.
Lindsay has first-hand experience, through his 33-year career and family history, of what it's like caring for someone with dementia. Knowing there had to be a better way, Lindsay hopes to provide a more person-centred, targeted approach to the care and transport of those living with the disease. 
"We've made great advances in other areas like stroke and trauma management in the pre-hospital setting, but we haven't touched on how we can improve care for people who live with dementia," he said. 
"We know that taking these vulnerable people out of their familiar home environments and transferring them in a cold ambulance in the middle of the night, for example, with big bright lights and various loud noises, is de-stabilising and potentially quite frightening for them and most often makes their condition far worse. 
"I want to explore how we can better interact, manage and support people living with dementia so we can develop our service to meet the specific needs of these people and ultimately provide best care."
Lindsay said one of his early discoveries had been about making simple modifications to ambulances. 
"Things such as window coverings and USB ports to play dedicated playlists from their youth, changing the internal lighting design and colour scheme of the ambulance, providing reminiscence therapy through the use of electronic tablets, all make an incredible difference to their care."
He said he intends to use the Fellowship money by travelling to the UK to see the work of the National Health Service (NHS) in this field. 
"It's an important topic, especially with more than 100 types of dementia, but no states in Australia have investigated it. 
"There's an opportunity for us at Ambulance Victoria. I want to look at their specialised training, vehicles and equipment, understand their Strategic Dementia Action Plans and review the overall effectiveness. 
"Other ambulance jurisdictions within Australia are also keen to see the results of my research." Lindsay said.
Lindsay has a Masters Degree in Education from the Royal Melbourne Institute of Technology and a Graduate Diploma in Emergency Health from Monash University. 
Click to learn more: https://www.churchilltrust.com.au/fellow/lindsay-bent-vic-2022/