GoodSAM helps save a life
October 16, 2019 | in Community News, News, Patient story
A grandmother of six has been reunited with the GoodSAM responder and MICA Paramedic who helped save her life almost three months ago.
Lee Roddy had just enjoyed lunch in the city with friend Nerida McDowell when she fell to the ground unconscious in cardiac arrest. Nerida called Triple Zero (000), which dispatched emergency crews and also alerted nearby GoodSAM responders.
Cardiologist Dion Stub and his daughter Mia were nearby when he received the alert via the GoodSAM app on his mobile phone.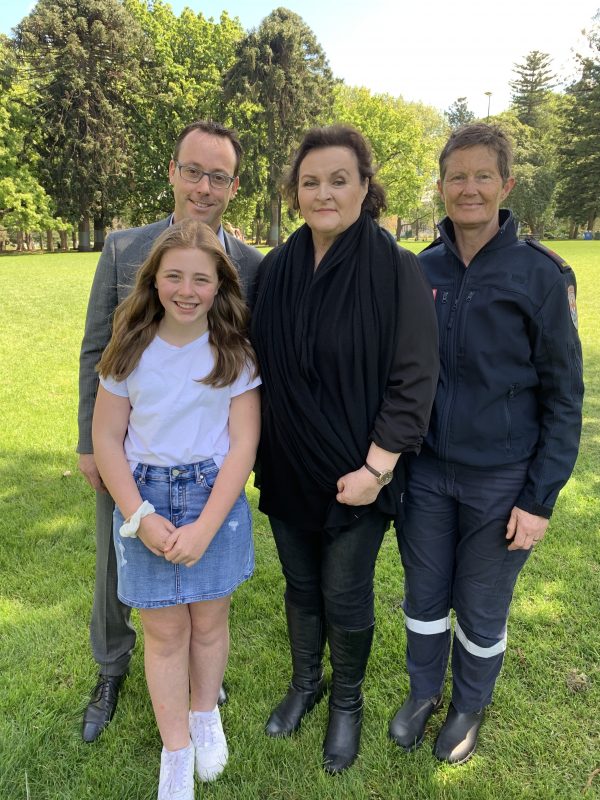 L – R: Associate Professor Dr Dion Stub, Mia Stub, Lee Roddy and MICA paramedic Andrea Wyatt.
Minutes later, Dr Stub began CPR and was soon joined by an MFB crew and paramedics. Lee was revived and taken to St Vincent's Hospital.
Lee welcomed the chance to meet and personally thank Dr Stub and MICA Paramedic Andrea Wyatt.
"I am just so grateful. Without them I wouldn't be here," she said.
Dr Stub has encouraged others to download the GoodSAM app on their smartphone.
"You don't need to be a cardiologist or medical professional to register," he said. "Anyone with a first aid certificate can potentially save someone's life."
Andrea Wyatt said when it comes to cardiac arrest, early intervention is crucial.
"We know that if a bystander steps in and begins CPR before we arrive it doubles a person's chance of survival."
More information: www.ambulance.vic.gov.au/goodSAM
The GoodSAM app is a free smartphone app available at the App Store or on Google Play that alerts first aid qualified and medically trained responders when someone nearby is in cardiac arrest.