The FIrst Responder Shock Trial
Combining smartphone-activated first responders (GoodSAM) with an ultraportable AED solution, such as the CellAED®, has the potential to significantly improve survival rates for out-of-hospital cardiac arrest (OHCA) patients.
Early defibrillation in cardiac arrest saves lives
Every year, almost 25,000 lives are lost in Australia and New Zealand due to out-of-hospital cardiac arrests (OHCA). Typically, less than one in ten patients survive to hospital discharge.
Defibrillation by bystanders and GoodSAM responders using an automated external defibrillator (AED) halves the time to first defibrillation and can help double or triple rates of survival for cardiac arrest.
Unfortunately, the proportion of GoodSAM responders providing defibrillation to cardiac arrest patients remains low (2%). Developing strategies to improve timely response and defibrillation by bystanders has been identified as a leading research priority.
The FIRST trial is a multicentre cluster randomised controlled trial led by Ambulance Victoria and St John New Zealand to improve the deployment of AEDs among GoodSAM responders.
This novel trial will be conducted in Victoria, Australia, and New Zealand to examine whether equipping high-frequency GoodSAM responders with an ultraportable defibrillator such as CellAED® can increase survival to 30 days in OHCA compared with the current strategy of retrieving the closest available AED.
The FIRST trial will establish the practicality of using an ultraportable AED and the acceptability of this strategy to foster earlier community intervention during OHCA. Further details regarding the trial methodology can be accessed on the Australian and New Zealand Clinical Trials Register (ACTRN12622000448741p).
Why is the FIRST Trial important?
The most significant opportunity for improving outcomes in OHCA is within the first few minutes after a cardiac arrest occurs. Early intervention by bystanders, such as cardiopulmonary resuscitation (CPR) and defibrillation, remains crucial in driving better short-term and long-term survival and functional recovery outcomes.
The single most significant barrier to increasing the use of AEDs by bystanders is their location.
Significant limitations exist in public access defibrillation (PAD) programmes, and public AEDs are rarely available in the critical minutes following an OHCA. Although 75% of OHCA currently occurs in the home, most PADs are located in high-density public locations, and their deployment assumes low utility after business hours. Unfortunately, this strategy has resulted in relatively little penetration of AEDs into homes, where less than 1% of initially shockable OHCA are currently receiving bystander-initiated defibrillation.
Evidence indicates that GoodSAM responders can help to improve rates of bystander CPR and defibrillation. Patients who receive a GoodSAM attendance are considerably more likely to receive bystander CPR, present in a shockable rhythm, and receive a shock from a bystander using an AED. Despite this, PAD use rates remain low even among GoodSAM responders (16%). This reflects the socioeconomic, geographical, and practical inequities in the current placement of AEDs across our communities. Currently, GoodSAM responders are rarely in a position to gain access to a public AED when responding to a GoodSAM alert.
The FIRST trial can potentially address the limitations of the current PAD programme. It will enhance GoodSAM responders' access to AEDs, which will drive significant improvements in outcomes for OHCA in our most at-risk communities. This study is well placed for translation as a border model of care and has the potential to overcome the socioeconomic, geographical, and practical inequities in the current placement of AEDs across our communities.
What does the FIRST Trial involve?
We will recruit frequent GoodSAM responders with an annual alert accept frequency ≥ 0.5 since initial registration from Victoria, Australia, and New Zealand.
Half of the GoodSAM participants will be given an ultraportable defibrillator called CellAED®, and the other half will be required to retrieve the closest community AED when responding to a GoodSAM alert.
The CellAED® is a new defibrillation technology device. The device is a fully automatic, single-use defibrillator that is small enough to be carried in a pocket and simple enough to be deployed in seconds (). The device has received regulatory approval from the Therapeutic Goods Administration in 2021.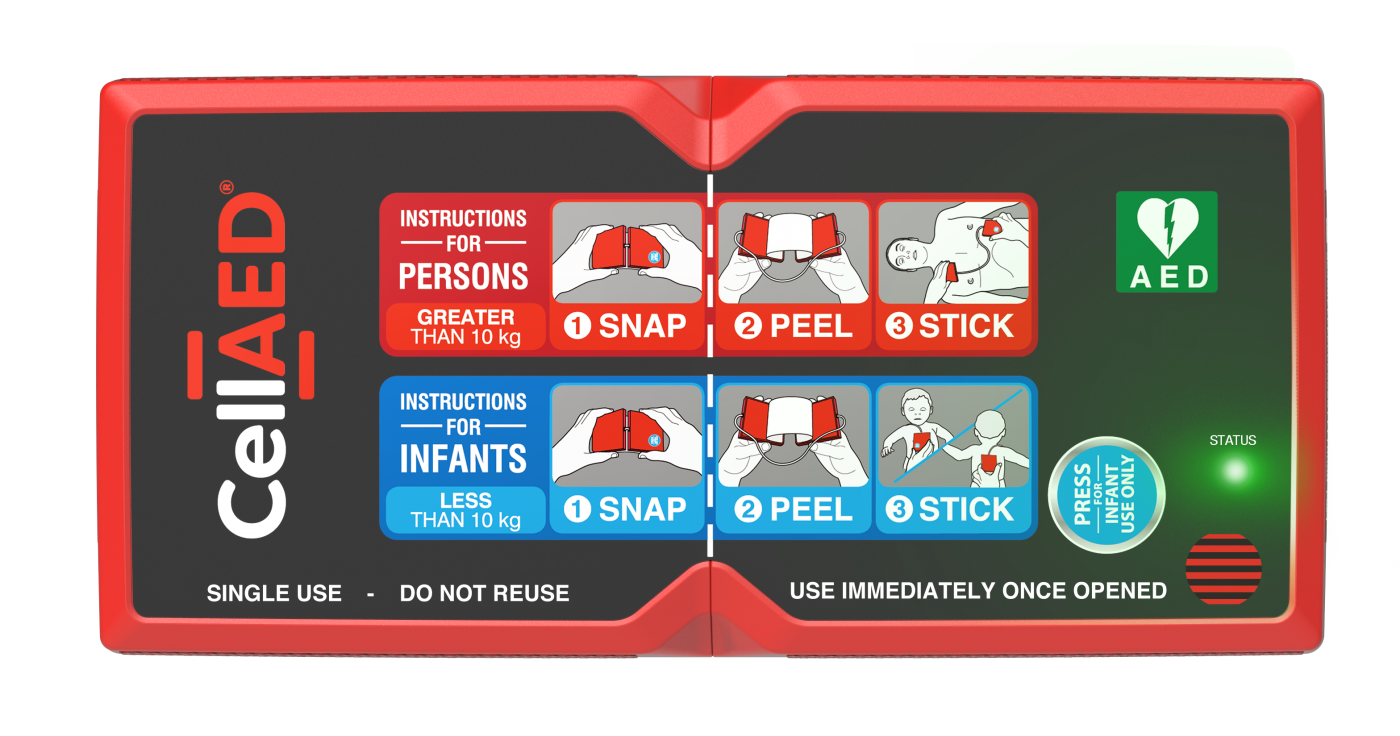 Ambulance Victoria
T: +61 418 962 824
Email: FIRST@ambulance.vic.gov.au
St John New Zealand
T: +64 27207 0182
Email: FIRST@stjohn.org.nz