Father of five thanks paramedics and Ballarat Aquatic and Lifestyle Centre staff
August 4, 2016 | in Community News
A Ballarat father-of-five who suffered a cardiac arrest at a local sports centre has been reunited with two Mobile Intensive Care Ambulance Paramedics (MICA) and an Advanced Life Support (ALS) paramedic who came to his aid.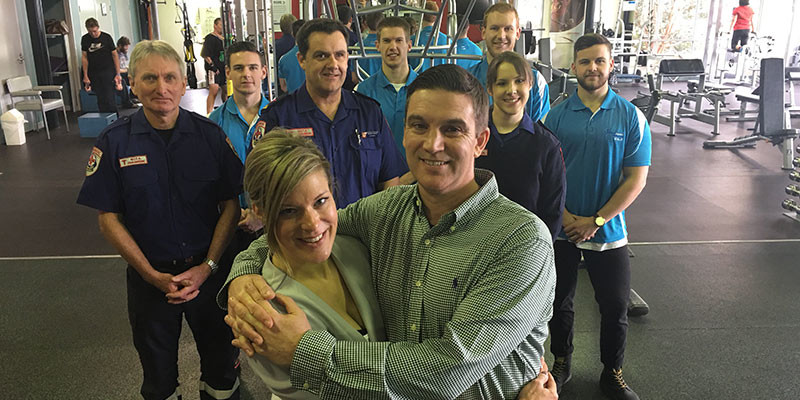 Gym-goer Jeremy Larkins was doing a workout at the Ballarat Aquatic and Lifestyle Centre (BALC) when he became unwell in June.
"I'm usually at the gym five-to-six times a week, and aside from feeling a little off earlier in the day, I still felt well enough to head to the gym." Jeremy, 47, said.
The self-employed dad from Lake Gardens was training on a piece of equipment when he collapsed.
First on scene was BALC personal trainer Jakob McDowell, an employee who was on his third shift at the centre.
Jakob said he saw Jeremy collapse and immediately went to see if he was ok. When Jeremy didn't respond, Jakob alerted BALC manager Reece Stewart and called Triple Zero.
In the meantime, Christopher Delahunty, who works in BALC's Aquatic department, was doing a gym workout at the time and asked Jakob if Jeremy was ok.
"I had almost finished my work-out when I saw Jeremy on the ground and Jakob rushing to the phone," Christopher said.
"I quickly went over to Jeremy and got cracking with chest compressions, until Reece came in and took over."
Reece continued Cardio Pulmonary Resuscitation (CPR) and also applied the centre's Automated External Defibrillator (AED).
An AED is used to analyse a person's heart rhythm and shock a person's heart back into normal function, if they are in cardiac arrest.
Reece said he had never done CPR before, but didn't think twice about swinging into action.
BALC receptionist Joshua Attwood, who was also exercising at the time Jeremy went into cardiac arrest, had already looked up a recent history of who had signed into the gym, so he could pass Jeremy's details onto the paramedics when they arrived.
MICA Paramedic John Seater said the paramedics who attended the case, including MICA Brendan Walker and ALS Natalie Ehrenleitner, could not be more thankful for the bystanders who helped Jeremy.
John said the bystanders' quick thinking, effective CPR and using the AED, all contributed to a positive outcome.
"We really commend the bystanders who quickly recognised that CPR needed to be done and immediately started effective chest compressions," John said.
"They did a fantastic job and we (paramedics) just built on their good work."
Ambulance Victoria Manager Emergency Co-Responder Programs Trevor Weston said that early CPR and defibrillation were key links in the 'chain of survival' – a process which helps save the lives of people in sudden cardiac arrest.
"The six steps in the 'chain of survival' are, early recognition of cardiac arrest, early access to emergency care (calling Triple Zero), early CPR, early defibrillation, early advanced care (paramedics) and definitive care (hospital)," Trevor said.
"The bystanders on that day certainly exemplified the first four steps in the Chain, which no doubt contributed towards Jeremy's survival".
Jeremy had an implantable defibrillator fitted and spent more than two weeks in hospital, including four days in a coma.
"I was really looking forward to meeting the paramedics and the four guys that helped me before they arrived as well – I can't thank them enough," Jeremy said.
"Returning to the gym for the first time for the reunion and meeting the paramedics and the bystanders has really provided me with some closure from my incident."
Jeremy said, since he fell unwell, he has had several family members sign up to do CPR courses.
"I think CPR skills are incredibly important to learn – I'm also going to refresh my skills once I am fit enough," he said.