Christmas comes early for Greensborough mother who meets paramedics
December 15, 2016 | in Community News
For 45-year old Kim Powell, this year's Christmas holidays will be spent very differently to last year's.
The Greensborough mum-of-three suffered a cardiac arrest at her home on December 27 and had one Christmas wish for 2016 – to meet the paramedics who saved her life.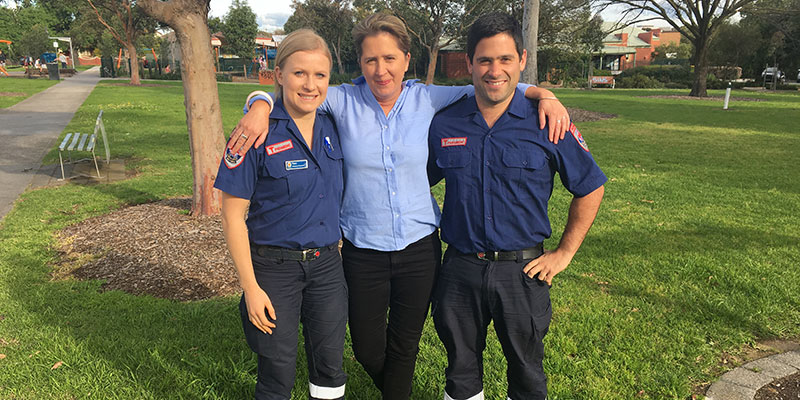 Kim was asleep when loud snoring woke her husband Jeff.
"I had already fallen asleep the night I had my cardiac arrest, but I don't remember going to bed," Kim said.
"The last thing I remember was picking Jeff up from work on Boxing Day and him telling me I didn't look well. I had spent the day in bed because I was feeling exhausted."
Kim said, in hindsight that overwhelming feeling of tiredness was something she couldn't shake for days.
"On December 22, it was my youngest daughter's fifth birthday party and I was talking to someone, and I remember thinking, 'I just can't keep standing here and talking'. I was so overly tired and I just wanted to sleep – and people who know me know I am a very sociable person," Kim said.
"I just thought I was rundown, being the end of the year and all."
Kim spent Christmas last year at home with the family and her sister but still wasn't feeling well.
"I didn't have one drink on Christmas Day. I drove my sister home to Port Melbourne and again, I thought I was going to fall asleep."
Kim said she thought she was fit and healthy until she had her third child in December 2010 and discovered she had heart and thyroid issues.
When Kim suffered her cardiac arrest, Jeff immediately knew something was wrong.
"In the middle of the night, Kim made a really loud noise and I could hear her trying to breathe, so I switched the lights on and saw her eyes were open but she was unconscious," Jeff said.
"Kim then jolted and took another deep breath and regained consciousness – and started talking – but didn't make sense, so I called an ambulance."
Advanced Life Support Paramedics (ALS) Tiana Daniels and Michael Cornelio went to the pre-school teachers' aid and found Kim in cardiac arrest.
"As soon as we arrived, Michael and I got Kim off her bed and Michael immediately started Cardiopulmonary Resuscitation (CPR)," Tiana said.
"Then we shocked Kim once with a defibrillator. Even though she was breathing, she was still unconscious and very unwell so we requested Mobile Intensive Care Ambulance Paramedics (MICA) as backup."
A defibrillator is used to analyse a person's heart rhythm and shock a person's heart back into normal function, if they are in cardiac arrest.
A third crew was then sent to Kim's case to assist with loading her into the ambulance.
Ambulance Victoria Manager Emergency Co-Responder Programs Trevor Weston said that early CPR and defibrillation were key links in the 'chain of survival' – a process which helps save the lives of people in sudden cardiac arrest.
"The six steps in the 'chain of survival' are, early recognition of cardiac arrest, early access to emergency care (calling Triple Zero), early CPR, early defibrillation, early advanced care (paramedics) and definitive care (hospital)," Trevor said.
Kim was taken to the Austin hospital and later transferred to the Alfred hospital.
She had her thyroid removed and had an implantable pacemaker and defibrillator unit inserted.
After spending three weeks in hospital, which included celebrating her 45th birthday on 31 December, she returned home.
"My sister and her partner came into the Alfred on my birthday and brought balloons and a cake and champagne glasses, but I think mentally I still wasn't all there," Kim said.
Kim still attends cardiac rehabilitation twice a week at the Austin Hospital.
Kim and Jeff are looking forward to spending her birthday together this year with their three children.
"This year's birthday will not be celebrated in hospital," Kim said.
"I might head somewhere nice for dinner, given it is New Year's Eve as well, which will be lovely."
Kim and Jeff said they were both thrilled to meet the paramedics.
"I feel like I have had the best care from the very start," Kim said.
"I am so glad I got to see some of the paramedics that helped me. I wanted them to see that I came good, and it's all thanks to them."
Jeff said he was so grateful for the work of the paramedics and saw how committed they were to helping Kim before she was taken to the Austin hospital.
"When I consider what could have happened to Kim and what the kids might have been exposed to, this outcome is so great and I am so thankful," he said.
Tiana and Michael were also happy to be reunited with Kim and Jeff under better circumstances.
"I really wanted to know how Kim was going. I had initially gone to see how she was going when she was at the Austin hospital, and then found out she had been transferred to the Alfred hospital," Tiana said.
"It's so nice to see how well Kim recovered from her ordeal and also to see Jeff this calm and relaxed was just perfect."
Michael echoed similar thoughts.
"I am so happy and relieved for Kim and I hope that she has a wonderful Christmas with her family and enjoys her birthday celebrations on New Year's Eve," he said.