Ambulance Victoria and Life Saving Victoria Strengthening Cultural Diversity
July 22, 2019 | in Community News, News
A unique training initiative, aimed at increasing diversity within rural communities and strengthening Ambulance Victoria's operational workforce, has its first graduates.
The Multicultural Employment Pathways program is a partnership between Ambulance Victoria and Life Saving Victoria to train young people from culturally and linguistically diverse (CALD) backgrounds to become Ambulance Community Officers (ACOs) in rural areas.
ACOs are first responders employed on a casual basis to provide advanced first aid in remote communities where the caseload is low and the branch is not staffed full-time.
The first group of six ACOs to graduate from the program hail from Afghanistan, Somalia, Eritrea, Iran, Myanmar and Pakistan and will be working out of Beaufort and Foster in country Victoria.
Ghanieh Daghagheleh (24) and Ali Tahiri (23) both came to Australia by boat as refugees from Iran and Afghanistan, seeking a better life.
After enrolling in English language schools, they were each approached by Life Saving Victoria's established aquatic education program and became qualified lifeguards in their communities.
When the opportunity came up to be involved in the AV Multicultural Employment Program, Ghanieh says she jumped at the opportunity to work as one of 650 ACOs, alongside Ambulance Victoria paramedics.
"When I was seven years old, I dreamt of being a doctor so I could save lives, and when I came to Australia, I realised you don't have to be a doctor to help your community," she said.
"Being a paramedic is more than just wearing a uniform, it's about community and giving back to the community."
Ali agrees.
"When I first arrived, I remember how helpful people were," he explained.
"I want to pay back to Australia in any way I can and I want to help out the community."
Ambulance Victoria Chief Executive Officer, Associate Professor Tony Walker, says the Multicultural Employment Program pilot with Life Saving Victoria is an example of a partnership that makes a difference.
"Our Ambulance Community Officers will be able to engage with rural communities in a positive way, bridging cultural gaps and providing exceptional patient care to those who need it in an emergency, all while supporting Ambulance Victoria's paramedic workforce," Associate Professor Walker said.
"We hope the Multicultural Employment Program will inspire other young people with similar backgrounds to consider pursuing a career in the emergency services sector."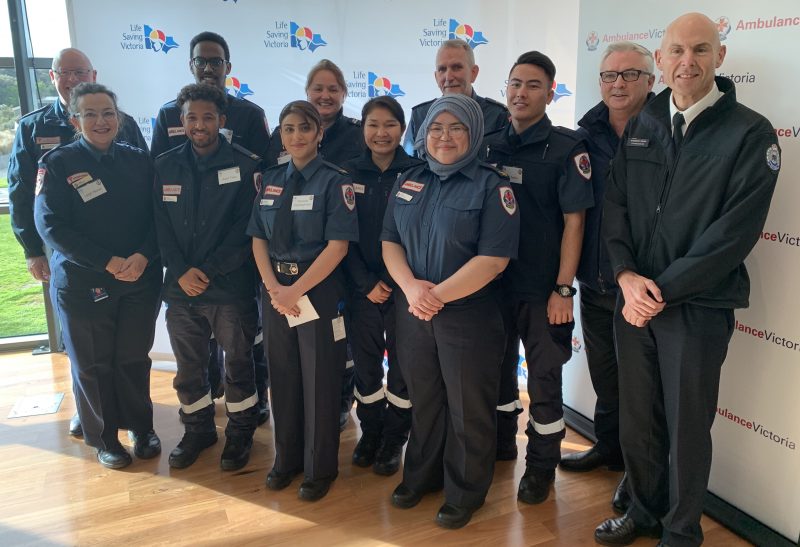 Life Saving Victoria CEO Nigel Taylor said that this program builds on LSV's multicultural water safety awareness programs to create career pathways into Victoria's emergency services.
"For more than a decade we have had great success engaging with the CALD community, establishing pathways for multicultural community members into volunteer lifesaving clubs, as well as into paid lifeguarding and swim teacher positions at local pools.
"The benefits for local communities have included bridging cultural and language differences, encouraging inclusion and social cohesion, and we hope to see these results extended into the emergency services."
Both Ali and Ghanieh hope their experience with the Multicultural Employment Program and the life-saving skills they will develop and maintain every year, will lead them on a pathway to becoming qualified paramedics in the future.
The pilot program is expected to be extended to include CALD ACOs located in Anglesea and Tatura in the future.