Ambulance Victoria paramedic diagnoses his own heart attack
May 9, 2017 | in News
When paramedic Dave Watson went to work at Casterton last month, he didn't expect to be diagnosing his own major heart attack.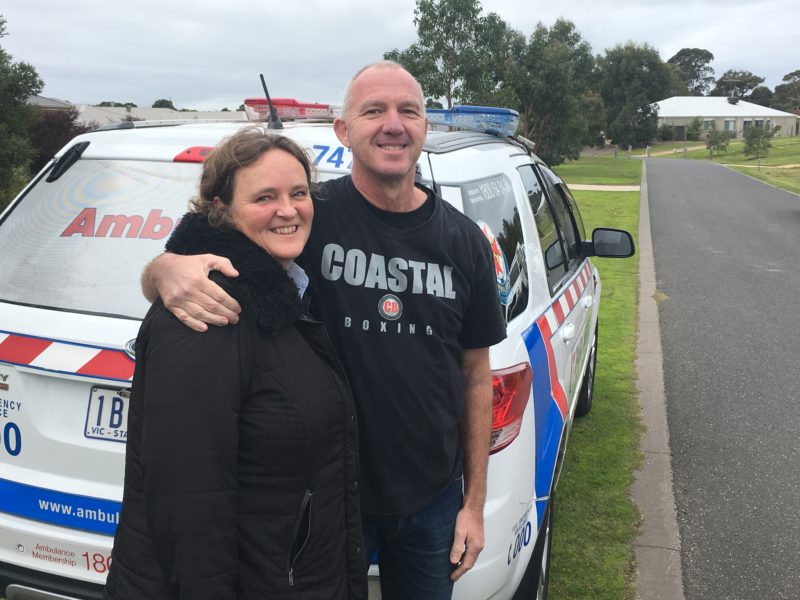 Dave, a paramedic for 25 years, decided to use some down time at work to exercise.
'I was warming up and had a sudden onset of pain radiating across my chest, tingles down both arms, and I started sweating profusely,' Dave said.
'I went inside and grabbed the heart monitor and found I was in an abnormal rhythm, which rang alarm bells. I took myself in the ambulance 100 metres down the road to Casterton Hospital.
Nursing staff at the hospital did a further ECG (electrocardiogram) and gave Dave some heart medication, while intensive care paramedics from Hamilton and the on-call doctor went to the hospital.
They worked together to give Dave thrombolytic medication to begin to breaking up the clot which was causing the heart attack.
Dave was then flown by air ambulance helicopter to Geelong H
ospital for further treatment, and is now recovering at home.
While Dave had the skills and equipment to diagnose his heart attack, anyone having chest pain should call triple zero.
'Anyone in the community who has chest pain should dial triple zero (000), and not drive themselves to hospital,' Dave said.
'Time is heart muscle. The warning signs can be back pain, jaw pain or neck pain. It can include nausea and sweating.
'I am very lucky because I got on to it early – that's why people need to call triple zero early,' Dave said.
Paramedics across Victoria are now able to diagnose someone having a heart attack using a 12-lead ECG.
Advanced life support paramedics at 14 rural locations are also trialling the use of clot-busting medication which was previously only administered by intensive care paramedics.