March 1, 2017 | in Community News
When motorcyclist John Erickson's day of riding came to a crashing end on a dirt track at Timbarra in East Gippsland it probably saved his life.
John was riding up a hill with his son and some friends when he came off the bike and fractured his pelvis.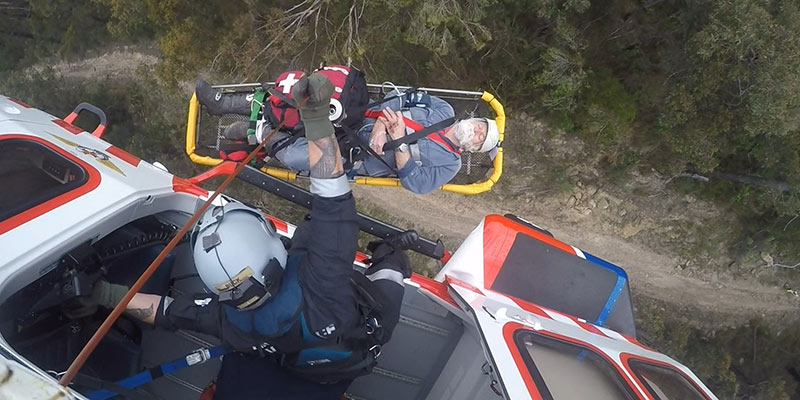 His friends tried to get him up and into a four wheel drive but he was in too much pain so they called triple zero [000].
An air ambulance helicopter based in the Latrobe Valley was dispatched due to the remote location.
Without a helicopter landing site nearby, pilot Andrew McCole hovered over the accident scene while crewman Brandon Rogers winched down Intensive Care Flight Paramedic Nick Roder to treat John.
Once Nick had John's pain under control he was able to move him to a stretcher so he could be winched into the helicopter.
Due to John's injury a decision was made to fly him to Royal Melbourne Hospital.
On the way Nick performed an ultrasound using a portable scanner to confirm that John wasn't bleeding internally.
When John arrived at hospital they did further scans, which confirmed he had fractured his pelvis, and also discovered he had a cancerous growth on his kidney.
John has since had surgery to remove the kidney, and is back home and recovering well.
He's praised the efforts of the air ambulance crew, and Royal Melbourne Hospital.
'Without them, it would've been a very different outcome,' John said.