December 24, 2019 | in Community News, News, Patient story
September 5, 2019 was a typical work day for Clive Jackson, until he collapsed on a busy city-bound train.
Mr Jackson suffered a cardiac arrest after his heart unexpectedly stopped.
Thankfully, four quick-thinking passengers – Meagan Spicer, Annie Baker, Laura Carra and Kirsty Van Puyenbroek – intervened and dialled Triple Zero (000) and started Cardiopulmonary Resuscitation (CPR), which helped save his life.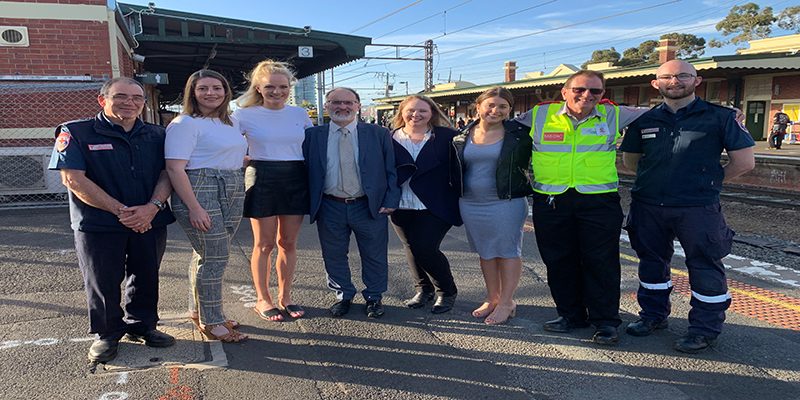 With no symptoms, previous serious health issues or adverse family medical history, Mr Jackson said the incident came as a complete surprise.
"I was shocked it happened to me and didn't even think I was a candidate for it," he said.
"I eat reasonably healthy and walk a few blocks every day."
Receiving several shocks from an Automated External Defibrillator (AED), administered by Caulfield Station Medic Jim Hall before Ambulance Victoria paramedics' arrival, Mr Jackson said he didn't remember anything until he woke up in the Alfred Hospital.
Reuniting with his saviours last week, the urban planner said he was immensely grateful he was still alive.
"I wouldn't be here with a second life if they hadn't been there or known what to do."
Mobile Intensive Care Ambulance (MICA) Paramedic George Agapitos, who attended the scene, said Mr Jackson's survival highlighted the importance of bystander CPR and dialling Triple Zero.
"Minutes matter in cardiac arrest," Mr Agapitos said.
"Anyone can save a life in three simple steps: Call, Push, Shock. Call Triple Zero, push hard and fast on the chest, shock using an AED."
An AED is a light-weight, battery-operated, portable device used to shock the heart back into rhythm.
Mr Agapitos said anyone can use an AED, regardless of whether they have received training.
"If someone is in cardiac arrest and an AED is available, simply open it and follow the instructions. They are safe to use and will not give a shock unless necessary."
Mr Agapitos said another way to help paramedics was to download the GoodSAM responder app.
The app connects Victorians in cardiac arrest, like Mr Jackson, with responders and defibrillators in the critical minutes before paramedics arrive.
If you know CPR, it's as simple as signing up to save a life.
More information can be found here.