November 26, 2019 | in News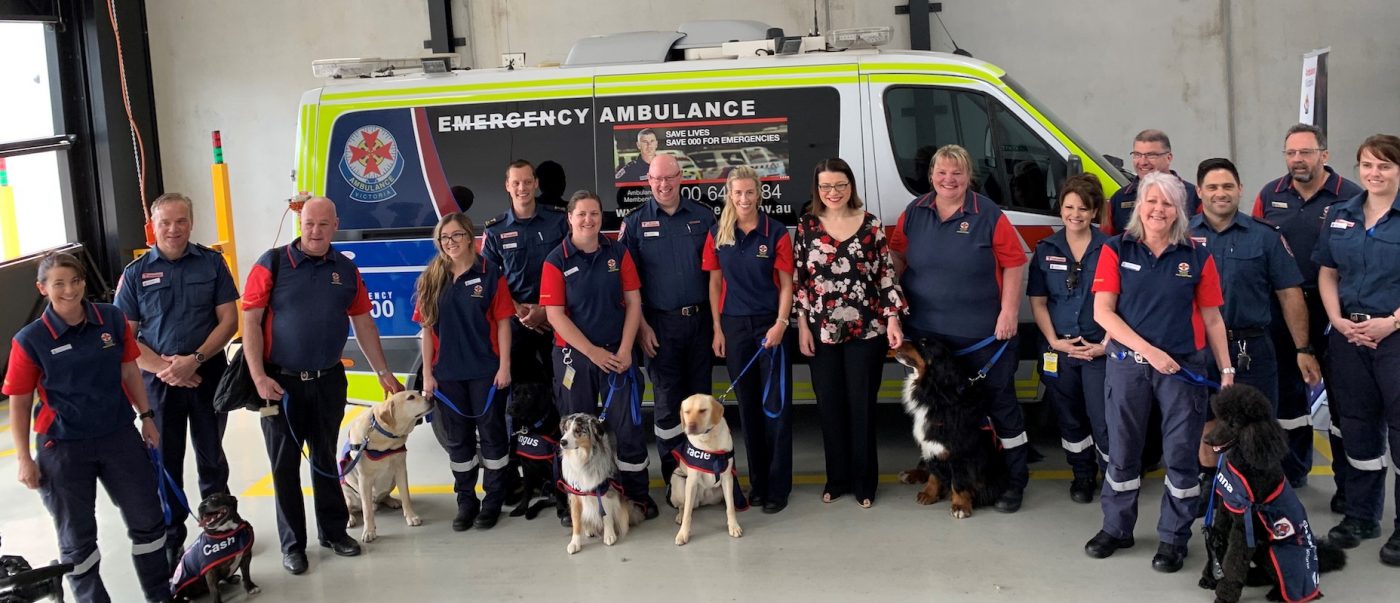 Ambulance Victoria's newest recruits have been unveiled – 10 additional Peer Support Dogs to help with the mental health and wellbeing of employees.
They include three Golden Retrievers (Daisy, Chomp and Ted), two Labradors (Gracie and Angus), an Australian Shepherd (Skye), a Standard Poodle (Anna), an English Staffordshire Bull Terrier (Cash), an Old English Sheepdog (Millie) and a Groodle (Boomer).
Ambulance Victoria's first Peer Support Dog, Labrador Bruce (now seven years old), and his handler paramedic and peer support co-ordinator Ken Whittle, have visited hundreds of locations as part of the pilot program and helped nearly 3,000 paramedics.
The program started in May 2018 and is now being rolled out across the state with 12 dogs and handlers.
Ambulance Victoria Chief Executive Officer Tony Walker said the expansion was a significant milestone.
"Spending time with a peer support dog can help break down barriers and start conversations with our peer support staff that may not otherwise happen," Associate Professor Walker said.
Research shows emergency service workers report higher levels of depression, anxiety, post-traumatic stress disorder and fatigue.
Bruce's handler Ken said since the introduction of the program, he had been "overwhelmed" by the "changes in people's faces" when they spent time with Bruce.
Each accredited peer support dog will work up to four shifts per month as requests for support are received.
Their handlers will return to their regular jobs when their dogs are not engaged in sanctioned "work" activities.
Peer dogs and responders are extensively trained for their roles and undergo regular supervision, assessment and refresher courses.
Any AV staff member who owns a dog and meets the criteria can apply to be part of the program.