Faster response to time-critical emergencies
February 1, 2018 | in Community News, News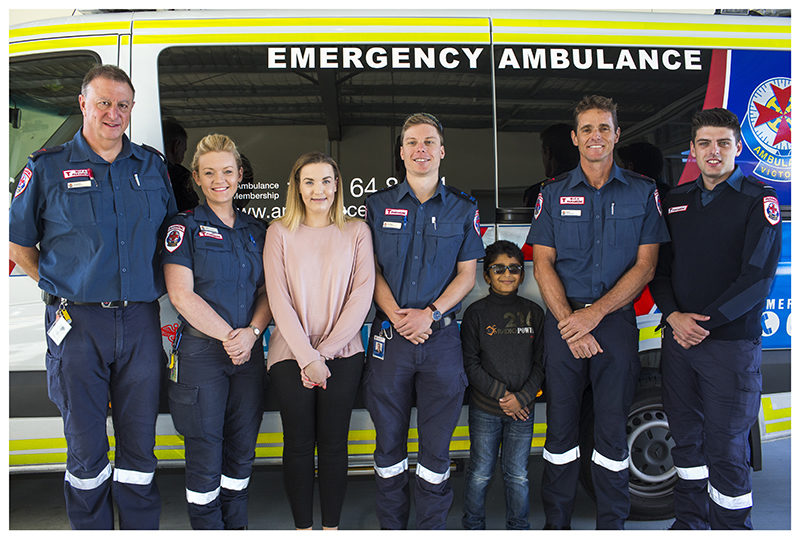 Shaun Matthew and Sophie King are among Victorians in life-threatening situations benefitting from improved ambulance response.
Shaun, 8, was critically ill when pulled unconscious from a swimming pool in September last year.
Pool staff and MFB firefighters commenced CPR (cardiopulmonary resuscitation) before paramedics continued Shaun's treatment, inserting a tube into his airway to take over his breathing, and transported him to hospital.
After his recovery, Shaun made a special poster for the paramedics involved in his care, thanking them for being "super heroes".
Sophie, 21, contacted Ambulance Victoria to thank the paramedics who cared for her after suffering a severe allergic reaction while at a cinema in December.
"I could never thank Ambulance Victoria and my paramedics more for the job they did," she wrote. "I can safely say if it wasn't for them, I wouldn't be alive right now."
The latest performance data shows that paramedics are getting to the sickest patients faster in the first full year of operation of Ambulance Victoria's new Clinical Response Model.
In the final three months of 2017, paramedics reached 81.4 per cent of time-critical Code 1 patients within the critical target of 15 minutes – an improvement of 5.4 percentage points despite an increase in Code 1 patients compared with the same period last year.
Average response time to Code 1 cases improved to 11 minutes and 42 seconds – one minute and 18 seconds faster than the same period last year.
In areas where the population exceeds 7500, paramedics reached 86.8 per cent of Code 1 patients within 15 minutes, compared with 81.1 per cent for the same period last year. The average response time was 10 minutes and 44 seconds – one minute and 18 seconds faster.
Ambulance Victoria CEO Tony Walker said transformational reforms, significant investment in ambulance services and the Save 000 for Emergencies campaign were having a positive impact.
"Ambulance Victoria has more ambulances and paramedics than ever before to respond more quickly to people who need our help – especially those who are seriously ill," Mr Walker said.
"Each week, we receive hundreds of Triple Zero (000) calls from people with less-urgent health needs.
"By better assessing the individual needs of our patients through our Referral Centre, we are able to provide those patients the most appropriate response and ensure ambulances are available for emergencies.
"We are urging Victorians to save Triple Zero (000) calls for emergencies – if we're tied up with non-emergency calls, we're not available for people in life-threatening, time-critical situations."
The latest response data follows the Australian Government's Productivity Commission Report on Government Services comparing the performance of ambulance services across the country.
Victoria was the only state to have improved response times to Code 1 patients in major cities in 2016-17 and recorded the greatest improvement in statewide response times.
The Report also shows that 97% of patients were satisfied or very satisfied with our service, and 98% said the level of care provided by paramedics was very good or good.
Victoria has the most operational personnel of any state or territory and the lowest attrition rate of 1.7% – about half the rate of the previous year (3.4% in 2015-16).