MOVEMBER: Grow a Mo', Mo've or Mo' Your Own Way!
November 19, 2020 | in Uncategorized
It's that time of the year again, Movember! This year there are three different options for getting involved, and 152 of Ambulance Victoria's men and women have done just that.

Option 1. Grow a Mo'.
Acting as a great conversation starter to raise awareness of mental health, for many, this is the easiest way to get involved in Movember. All you need to do is choose a style of moustache and let it grow! It may need a few touch ups and grooming along the way but requires minimal effort for maximum effect. With COVID precautions in mind, our participants have had to 'stash the tache' under masks, but here are some of our clean shaven Movember Paramedics on Day 1.
Grow A Mo' participants on Day 1 (L-R): Dylan Jenkins, Peter Lincoln, Riley Walker & Matthew Faravoni
Option 2. Mo've
For those of us who have chosen not to let the facial hair flourish (or can't!), Mo've is a physical challenge initiative designed to make you move! Our Mo've participants have set themselves a 60km benchmark to push themselves to go the distance. It could be running or cycling, they just need to reach the 60km at the end of the month. When you break it down, that's a minimum of three 5km runs a week… not as easy as it seems!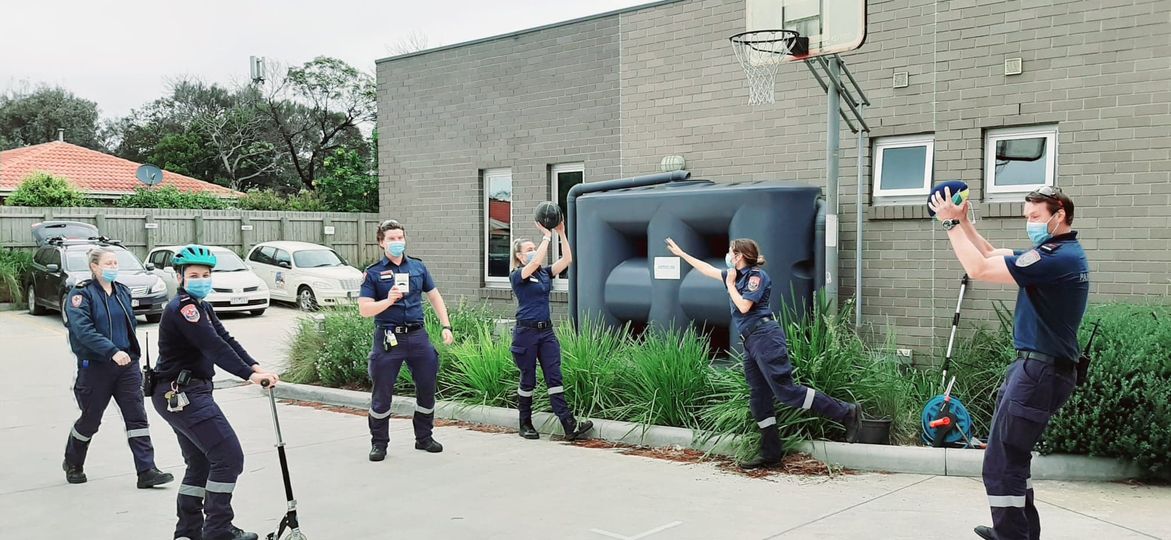 Mount Martha branch crew demonstrating how easy it is to get involved.
3. Mo' Your Own Way
Now if you can't grow a moustache or the Mo've option isn't quite right,  Mo' Your Own Way is another option. You choose what you want to do, how many times you want to do it and hold yourself accountable to get it done!
For example, paramedic wife Bree has teamed up with her husband Tom to Mo' Their Own Way with burpees, push ups, pull ups and dips. Ouch!
Sarah MacLure has chosen to do 10 x push ups in different places around Melbourne for every day in Movember. A cheeky yet very smart way to get outdoors every day!
Mo' Your Own Way participant: Sarah MacLure
With Grow a Mo', Mo've and Mo' Your Own Way, Ambulance Victoria has got Movember covered to help start conversations and change the face of men's health.
To donate to the Ambulance Victoria Movember Team, click here.