More Victorians surviving cardiac arrest
March 16, 2017 | in News, Research
Victorians are more likely than ever to survive cardiac arrest, maintain their independence and have a good quality of life, according to the latest research.
The Victorian Ambulance Cardiac Arrest Registry (VACAR) 2015-2016 Annual Report shows Ambulance Victoria paramedics attended 5899 out-of-hospital cardiac arrest events in 2015-16.
Median ambulance response times across the state for cardiac arrest patients (with resuscitation commenced) were lower in 2015-16 (7.8 minutes) than in the previous year (8.0 minutes).
And more bystanders are stepping in to help save lives with bystander CPR rates almost doubling over the past 10 years.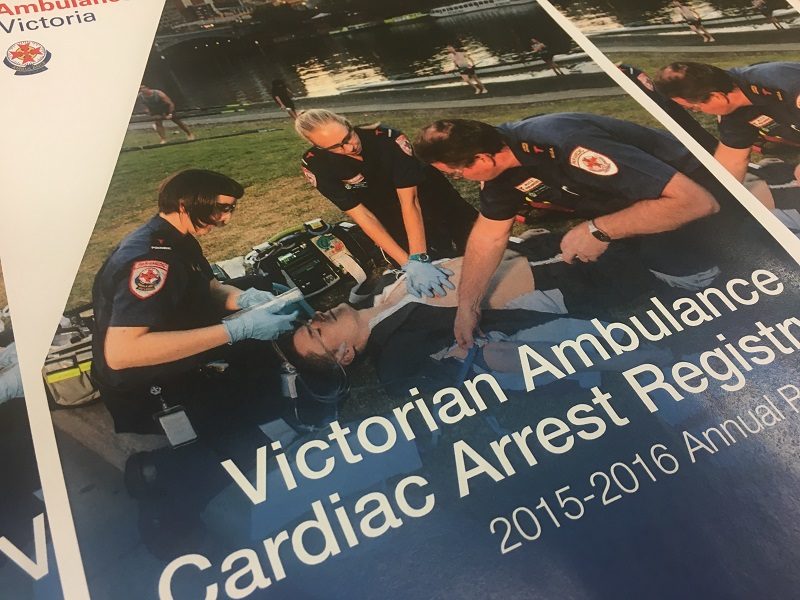 In 2015-2016:
96% of bystanders called 000 as their first call for help.
More than half (61%) of patients who were witnessed to collapse by a bystander received bystander CPR, compared to 36% of patients 10 years ago.
Patients who received bystander CPR were approximately 11 times more likely to be found in a shockable rhythm, the cardiac rhythm most favourable to survival.
Patients who received bystander CPR were twice as likely to be discharged alive from hospital as those who did not receive bystander CPR (12% vs 6%).
More patients first shocked by a bystander were discharged alive from hospital (55%) than those who had to wait for first shock by ambulance paramedics (28%).
Ambulance Victoria Manager Research and Evaluation Professor Karen Smith said quick intervention was the key to survival.
'Without quick intervention, someone who suffers a cardiac arrest almost always dies,' Prof Smith said.
'The Victorian community plays a vital role in activating a number of steps to improve survival.
'The first step is bystanders being able to recognise that someone is in a cardiac arrest and calling 000 (triple zero) to ask for help from the emergency medical services.
'Secondly, a bystander can initiate resuscitation, by performing CPR or (if available) using a public automated external defibrillator to shock (defibrillate) the patient so as to return them to a normal heart rhythm.'
Prof Smith said Ambulance Victoria was a strong performer when compared to other international agencies which reported their resuscitation outcomes.
More than one-third (35%) of Victorian patients who were seen to collapse, had a shockable heart rhythm on arrival of help and subsequently received resuscitation by emergency medical services survived. This increases to 38% for patients in metropolitan Melbourne. More patients in Victoria are surviving cardiac arrest than in London (31%).
Most Victorian survivors were discharged home (83%). Of patients arresting in 2014-2015 who were followed up 12 months after their arrest, 74 per cent of those working prior to their arrest had returned to work 12 months after their arrest.
'Victorian cardiac arrest patients are more likely than ever to survive, are able to maintain their independence and have a good quality of life,' Prof Smith said.
http://ambulance.vic.gov.au/about-us/research/research-publications/
A cardiac arrest occurs when a person's heart suddenly stops beating. A person in cardiac arrest will collapse and stop breathing normally and should receive cardiopulmonary resuscitation (CPR) immediately. 
A heart attack occurs when an area of the heart is seriously deprived of blood because of a blocked vessel. The warning signs and symptoms of a heart attack can vary from person to person but often last for at least 10 minutes and may include chest pain and shortness of breath.  A heart attack can progress to a cardiac arrest.