Mernda fisherman thanks his partner and paramedics
June 20, 2016 | in News
A Mernda man who suffered a cardiac arrest at his home has been reunited with two Mobile Intensive Care Ambulance Paramedics (MICA) who helped him.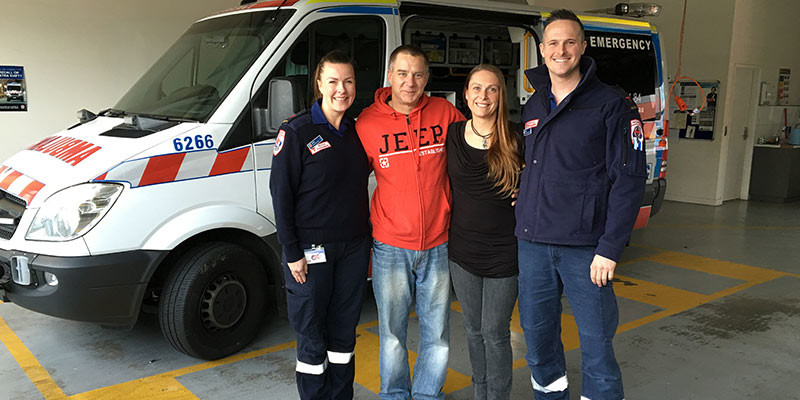 Keen fisherman Colin Zabenko returned home in the wee-hours of the morning from a fishing trip that didn't go ahead as planned when he became unwell in May.
"I went to my friend's house who lives 10 minutes down the road from me to go fishing for snapper on a boat – during snapper season I'm hardly home because I'm always fishing – and my friend said to me that he wasn't feeling well – I told him I wasn't feeling the best either," Colin, 48, said.
"I vaguely remember getting home after the failed fishing trip and then my next memory was waking up in the hospital."
Upon returning home from his friend's house, Colin went to his bedroom and was having a conversation with his partner Melyssa when, mid-sentence, he stopped talking and lay down on the bed.
Melyssa said she initially thought Colin had lied down because he was tired.
"Then when I called his name several times, I didn't get any response," Melyssa said.
"I grabbed Colin's mobile phone and immediately called Triple Zero and put the call taker on loudspeaker."
Melyssa followed the call taker's instructions and moved Colin on to the floor before commencing Cardiopulmonary Resuscitation (CPR).
MICA paramedics Mark Hobson and Haley Fothergill who went to Colin's aid, congratulated Melyssa on her wonderful CPR.
"The quality of CPR that Melyssa delivered certainly led to such a positive outcome," Mark said.
"The first question we usually ask at a case like Colin's is, 'Has bystander CPR been done?' When we look at how CPR is performed when we arrive on a scene, that can often dictate how it was being performed before we arrived – and in this case Melyssa was doing a fantastic job."
Ambulance Victoria Manager Emergency Co-Responder Programs Trevor Weston said that early CPR and defibrillation were key links in the 'chain of survival' – a process which could help save the lives of people in sudden cardiac arrest.
"The six steps in the 'chain of survival' are, early recognition of cardiac arrest, early access to emergency care (calling Triple Zero), early CPR, early defibrillation, early advanced care (paramedics) and definitive care (hospital)," Trevor said.
Colin spent six days in hospital, including two days in intensive care and on life support. He is now recovering at home after having a pacemaker and a defibrillator fitted.
"Melyssa and I were really keen to meet the paramedics, to thank them for all of their help and also to provide us with a bit of closure after the event," Colin said.
"I have also been thanking Melyssa, because if she hadn't done what she did (CPR), I wouldn't be here today."