McKinnon father thanks paramedic
July 21, 2016 | in Community News
A McKinnon father who suffered a cardiac arrest at a Melbourne golf course has been reunited with one of the Advanced Life Support (ALS) paramedics who helped him.
Keen golfer Andrew Heine had left work early one afternoon to play a round of golf at Kingston Heath Golf Club with a friend when he suddenly collapsed in May 2014.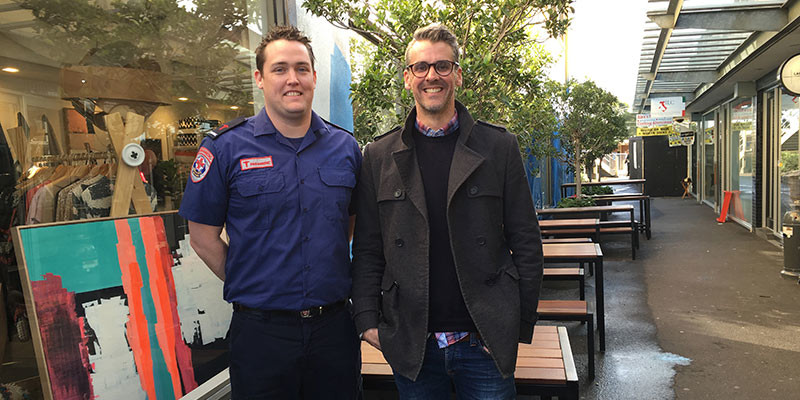 "I was planning to get through all 18 holes before it got too dark," Andrew, 41, said.
"I made it to the 17th hole and I was actually two over – I kept the scorecard from the day – but then I collapsed. Before this incident, I'd hardly had a cold."
As soon as the marketing director fell unwell, his golfing partner immediately called Triple Zero and followed the call taker's instructions to commence Cardio Pulmonary Resuscitation (CPR).
ALS paramedic Shane Wingrave, who went to Andrew's aid, said he and his partner arrived to find Andrew's friend doing effective CPR.
"It's a real credit to Andrew's friend and the fantastic chest compressions he was doing," Shane said.
"We (paramedics) continued with CPR, attached a defibrillator and provided Advanced Life Support care to Andrew".
The father-of-two was shocked nine times before he regained a heartbeat.
Ambulance Victoria Manager Emergency Co-Responder Programs Trevor Weston said that early CPR and defibrillation were key links in the 'chain of survival' – a process which helps save the lives of people in sudden cardiac arrest.
"The six steps in the 'chain of survival' are, early recognition of cardiac arrest, early access to emergency care (calling Triple Zero), early CPR, early defibrillation, early advanced care (paramedics) and definitive care (hospital)," Trevor said.
Andrew had an implantable defibrillator inserted and spent four weeks at Monash Hospital and a further seven weeks in a rehabilitation facility.
Andrew returned to the golf course in September 2015.
"I always walk past the 17th hole now. The first couple of times I returned to the course, I would walk past the 17th hole with my friends, and I would get really emotional – not because I remembered anything about it, but just because I know that's where it happened," Andrew said.
"But now, because of my golf partner and the paramedics, I'm here to tell the story. I have two young boys, aged six and eight, and now I can go on being their dad for the rest of my life – there's nothing more important than that for me."
Andrew returned to work in February, despite being visually impaired and no longer able to drive.
"Despite my eyesight and short term memory being affected as a result of the cardiac arrest, I'm very lucky and I think it's a pretty good outcome," he said.
"There's not too many times you can sit in front of people and thank them for saving your life – the paramedics did an amazing job."