Mates and strangers help save Euroa man
May 27, 2016 | in Community News
When Euroa resident, Warren Cummins, was called into work to fill a shift on his day off he had no idea the decision would save his life.
As patrons at a local hotel played a game of pool, they heard the sounds of a distressed employee and went to investigate.
Mark Tomlinson, Natalie Mann and Tessa Bollington found Warren, 54, slumped in a doorway and immediately checked his vital signs, directed staff to call Triple Zero (000) and administered Cardiopulmonary Resuscitation (CPR).
Mother of one Natalie said as soon as she began CPR she knew it was doing a great deal of good.
'Warren was blue when we arrived and as soon as we started the CPR we could see the colour in his face change,' Natalie said.
'The Triple Zero call taker was also incredibly helpful. I've had first aid training but if I didn't have it the call taker just takes you through the steps.'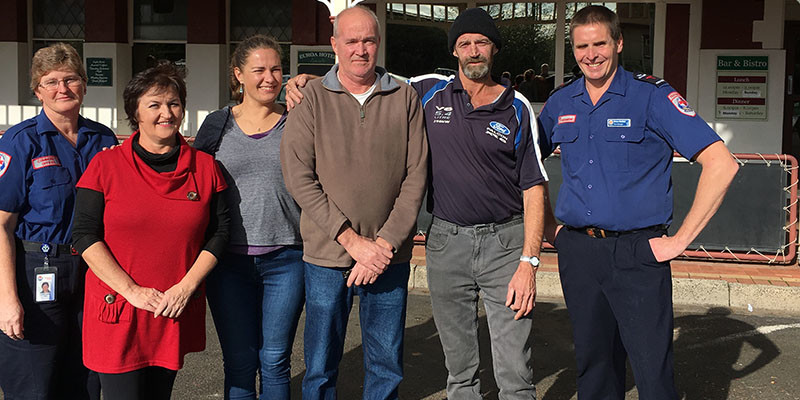 When the Murchison Advanced Life Support (ALS) and Mobile Intensive Care Ambulance (MICA) paramedics arrived they saw the team of life savers giving very effective CPR.
Euroa team manager Brian Moffatt, who attended the case, said Warren was given every chance of surviving due to the trio's actions.
'In so many cases bystanders see someone collapse and they are too scared to do CPR,' Brian said.
`Warren was incredibly lucky that he experienced his medical issue in front of not just one, but three people willing to give it a go.
'CPR won't hurt someone. Any CPR is better than no CPR, just step in and give it a try.'
Warren was flown to Melbourne for further treatment and continues to recover  at home.
According to the latest  Victorian Ambulance Cardiac Arrest Registry (VACAR) Annual Report, more bystanders than ever are stepping in to help save lives, if they see someone collapse in cardiac arrest.
The VACAR report released in February found that a record of 64 per cent of bystanders attempted CPR if they witnessed someone collapse in cardiac arrest. In 2005-2006 the rate was 35 per .
For every minute CPR is not done on a person in cardiac arrest their survival rate can be reduced by 10 per cent.
You can learn how to perform CPR through 4 Steps for Life Plus, a self-education program taught via a 20-minute DVD which involves practising the technique of performing CPR and becoming familiar with AEDs.
You can also learn how to perform CPR at your school or local community group with an interactive session presented by Ambulance Victoria's community educators.
To purchase a 4 Steps for Life Plus pack or book a session with an educator call 1300 550 472 or email cpr@ambulance.vic.gov.au