Maryborough sisters strive to save lives this Shocktober
October 10, 2022 | in Community News
Regional Victorians are being urged to refresh their cardiopulmonary resuscitation (CPR) skills and, just like the Jones sisters, sign up to be a GoodSAM responder in October 2022.
Now in its third year, Ambulance Victoria's (AV) Shocktober is a nationally recognised campaign aimed at improving cardiac arrest survival rates.
AV's Maryborough Team Manager Mark Passalick said about 19 Victorians suffer a cardiac arrest every day but only one in 10 survive, taking the lives of our loved ones far too soon.
"This is why, this month we want as many people as possible to learn basic CPR and to become one of AV's GoodSAM Responders," he said.  
GoodSAM is a life-saving app that connects patients in cardiac arrest with a nearby volunteer who is willing to start hands-on CPR while an ambulance is on the way.
Two of Victoria's most frequent responders – Maryborough sisters Jess and Gabby – signed up to the GoodSAM program in 2018 and are encouraging all Victorians to sign up and help save a life.
Jess is a midwife at Ballarat Hospital and Gabby works in critical care at Bendigo Hospital and Monash University, teaching clinical skills and simulation to medical students.   Through the GoodSAM app they have accepted more than 30 cardiac arrest cases between them – often attending these together to provide effective CPR while an ambulance is on the way.
"Our family has a strong history of cardiac-related health issues, which is what prompted us to sign up to GoodSAM," Gabby said.
"While at work one day, our mum survived a cardiac arrest at the age of 46; we know the value of bystander intervention when someone goes into cardiac arrest and how it has the potential to save lives."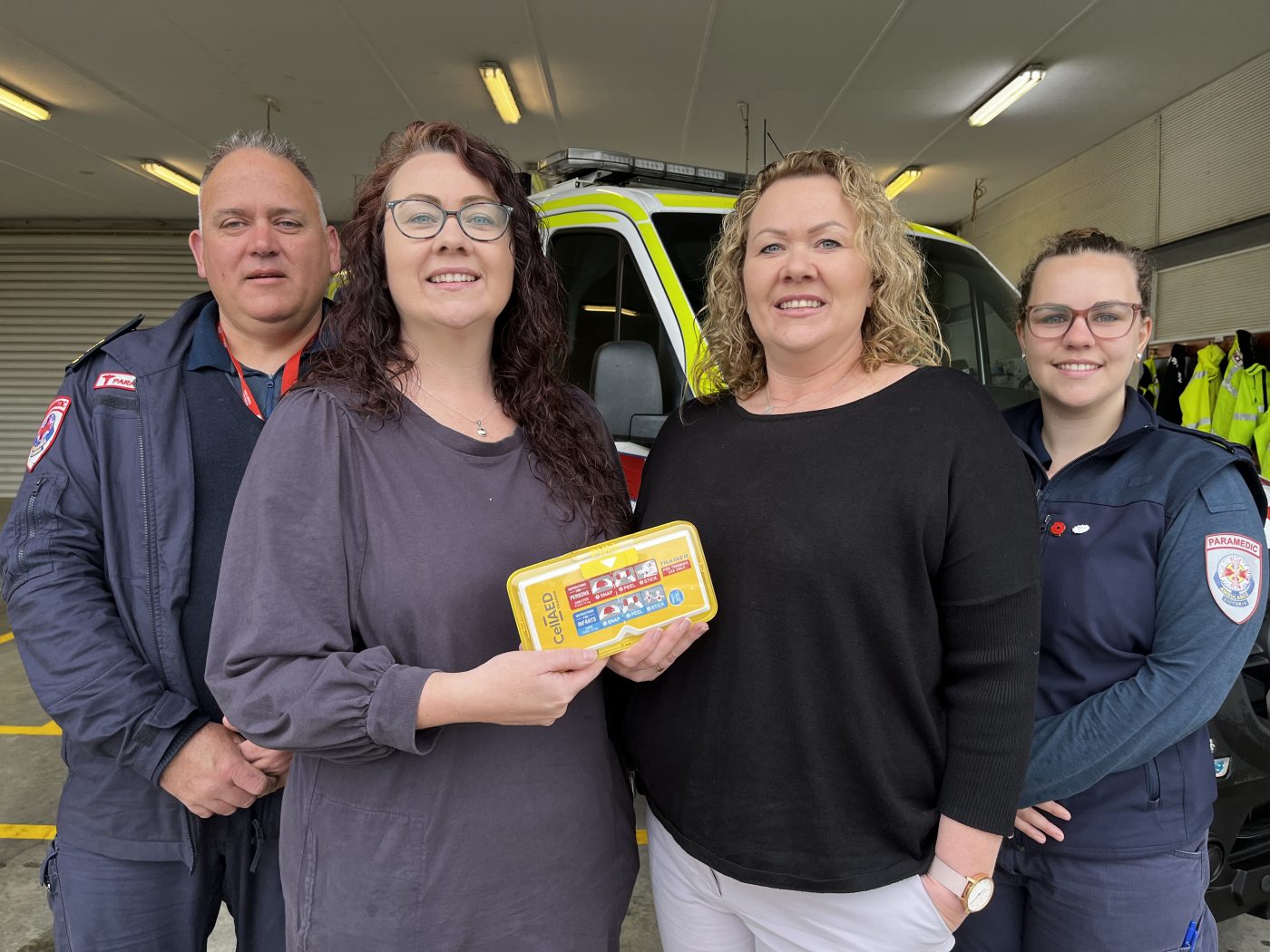 Gabby said the pair chipped in to purchase their dad an automated external defibrillator (AED) for Father's Day last year, which has given the family some peace of mind if a medical emergency happens at their rural property.
"Wanting to give cardiac arrest patients in my hometown of Maryborough the best chance of survival is what inspired me to sign up to the Smartphone Activated Medic (GoodSAM) App," Jess said.
"We have an ageing population in Maryborough, so I would encourage all the locals in my town – and every Victorian – to sign up to the app, because you could save someone's life. By providing effective compressions while an ambulance is on the way, it gives the patient the chance to survive that they otherwise might not have had."
Cardiac arrest happens when a person's heart suddenly stops beating and stops pumping blood effectively around the body; it can happen to anyone, anytime, anywhere.
"Pre-hospital care in Victoria is world class, but it all starts when a bystander steps in and starts compressions. While bystanders alone will never replace an ambulance service, equipping people with skills to start the chain of survival; starting chest compressions or CPR and using an AED saves lives," Mark said.
"Anyone can save a life in three simple steps: Call, Push, Shock. Call Triple Zero (000), Push hard and fast on the middle of the chest, and Shock using an AED."
An AED is used to deliver a shock to help restore normal heart rhythm following a cardiac arrest.
"The use of public AEDs has nearly doubled in the past 10 years; anyone can use an AED, regardless of whether they have received training to do so. If someone is in cardiac arrest and an AED is available, simply open it and follow the verbal instructions," Mark said. 
"Anyone can save a life by going to heartrestarter.com.au and signing up as a GoodSAM Responder today. You don't have to have experience or a medical background, you just have to be willing and able to do hands-on CPR, be over 18 years of age and have access to a smartphone," he said.
Finally, Mark said if you have an AED then register it with AV and ensure it is accessible 24/7 where people in need can use it.
"If someone suffers a cardiac arrest and a bystander calls 000, the call-taker can direct people to that nearest AED – this small but important step can help link AEDs in communities across Victoria with people who need them when they need them," he said.
GoodSAM responders Jess and Gabby also recently registered to be part of AV's FIrst Responder Shock Trial (FIRST) which will examine whether equipping high-frequency GoodSAM responders with an ultraportable defibrillator (such as the CellAED) can increase survival to 30 days in out-of-hospital-cardiac arrests (OHCA) compared with the current strategy of retrieving the closest available AED.
To sign up as a GoodSAM Responder visit: heartrestarter.com.au