Lilydale father thanks paramedics, friends and strangers
June 16, 2016 | in News
A 40-year-old father-of-one who suffered a cardiac arrest at a Melbourne hotel has been reunited with the bystanders and Ambulance Victoria paramedics who came to his aid.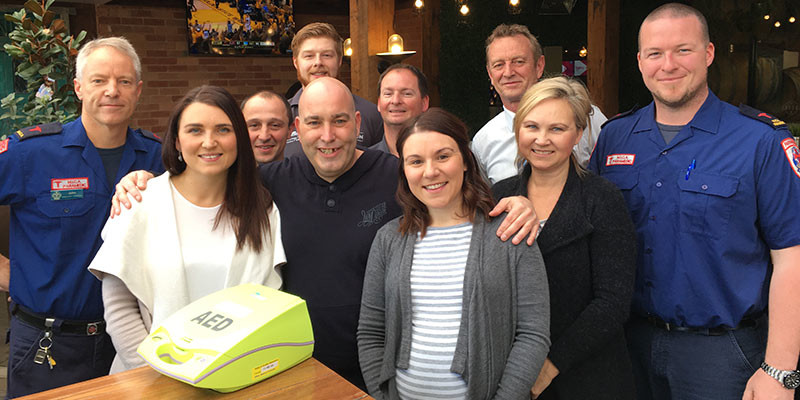 Lucky to be alive, Lilydale diesel mechanic Christopher Panagiotidis, was dining with his family and a group of friends at the Croydon Hotel when he suddenly collapsed in the dining area in April.
"I was in the middle of my meal, when I suddenly felt what I thought was indigestion," Christopher said.
"I had a glass of mineral water and then collapsed."
His friends Bruno Carusi and Renato D'Ettore immediately put Christopher in the recovery position and commenced Cardiopulmonary Resuscitation (CPR).
Off-duty nurse Elise Pelosi, who was celebrating her husband's birthday on the same night then stepped in, with help from an off-duty Victoria Police officer Vincent Schalken.
Elise also instructed her sister Kelly Parish and mum Christine Tesoriero to attach the Automated External Defibrillator (AED).
An AED is used to analyse a person's heart rhythm and shock a person's heart back into normal function, if they are in cardiac arrest.
Croydon Hotel assistant venue manager Will Pollett said it was the first time the AED had been used.
Bystander Vincent said he was in a different area of the Croydon Hotel when a friend rushed in and said someone had fallen unwell.
"I quickly went to the bistro and saw Christopher lying on the floor and Elise was doing CPR, so I quickly jumped in and took over," Vincent said.
"I had never done CPR before, and had previously heard that if you did compressions for a long time, then you could get very tired – but I didn't slow down and was doing the compressions on Christopher's chest as hard as I could until the paramedics arrived."
After the AED was attached to Christopher, Vincent listened for the instructions.
"I continued CPR until the defibrillator told me stand clear, before it gave Christopher a shock," he said.
"Once the defibrillator was attached, I knew to listen to it carefully."
The paramedics who attended to the case could not be more thankful for the bystanders who came to the aid of Christopher, saying their quick thinking, effective CPR and delivering a shock from the AED, all contributed to a positive outcome.
Mobile Intensive Care Ambulance Paramedic (MICA) John Bumpstead said CPR was in progress when he arrived and the AED had been applied.
"We (paramedics) took over CPR and continued chest compressions and ventilation, and were treating Christopher when he got ROSC back – return of spontaneous circulation," John said.
"Christopher was then moved out to the ambulance, and then he started talking to us – that is a testament to how effective the bystander CPR was and how important having the AED applied early was."
Ambulance Victoria Manager Emergency Co-Responder Programs Trevor Weston said that early CPR and defibrillation were key links in the 'chain of survival' – a process which could help save the lives of people in sudden cardiac arrest.
"The six steps in the 'chain of survival' are, early recognition of cardiac arrest, early access to emergency care (calling Triple Zero), early CPR, early defibrillation, early advanced care (paramedics) and definitive care (hospital)," Trevor said.
MICA paramedic John Bumpstead said the result of Christopher's case was incredible.
"This was a fantastic outcome for Christopher, and really and truly, is a good example of the positive difference that bystander CPR and applying an AED can make – it's amazing," he said.
Christopher spent 11 days in hospital and is now recovering at home after having a defibrillator inserted and two stents put in after it was also discovered he had two blockages in his heart.
Christopher and his wife Margaret couldn't praise the work of the paramedics, their friends and strangers enough.
"I can't thank the paramedics enough for their help on the night when I was down and out," Christopher said.
"I appreciate everything the paramedics did for me and for my wife, but most of all for keeping me alive."
Further Information
Learn more about CPR and AEDs.
If you have an AED make sure you register it with Ambulance Victoria.