Launching Place dad thanks his daughter and paramedics
February 14, 2017 | in Community News
A Launching Place man who suffered a cardiac arrest at home has been reunited with the paramedics who came to his aid for the first time.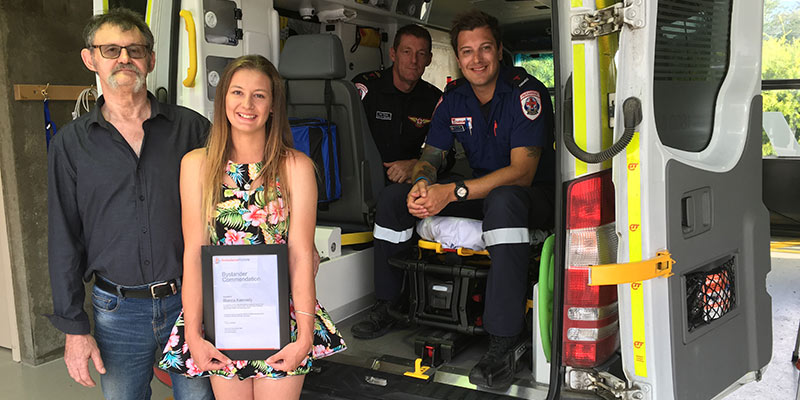 Father-of-one Kevin Kennedy woke just after midnight in late November and was feeling unwell when he called out to his 21-year old daughter Bianca to help him.
'I'm a truck driver, so I had gone to bed because I was starting work at 4am,' Kevin said.
'I am still trying to figure out why I woke up – I don't know if my alarm went off or if I just woke up because I wasn't feeling well. Bianca said I was sweating when she came in to my room, but I don't remember anything at all.'
Given Kevin is a diabetic, Bianca quickly checked the 62-year old's Blood Sugar Levels (BSL) and called Triple Zero (000), just before her dad fell unconscious and stopped breathing.
'I had only been on the phone for about 30 seconds with the 000 call-taker before I saw dad had stopped breathing,' Bianca said.
'When the call-taker said to me, I was going to have to start Cardiopulmonary Resuscitation (CPR), I panicked and I think I said to her, "I don't know how to do it". The call-taker talked me through it so I just blocked everything else out and listened to what the call-taker was saying.'
Bianca immediately commenced effective CPR – something she had never done before.
'My first thought about doing CPR was, I am in over my head here – is Dad going to survive this?,' she said.
'The adrenaline kicked in and I was able to stay calm and do what I needed to do.'
Advanced Life Support Paramedic (ALS) Chris King was first on scene and said that, without a doubt, Bianca saved her dad's life.
'The quality of CPR that Bianca delivered certainly led to such a positive outcome,' Chris said.
'When I had arrived, Bianca had dragged her dad off the bed and was doing very effective CPR – she is definitely up there with the best bystander CPR that I have ever seen.'
Chris said Mobile Intensive Care Paramedics (MICA) then intubated Kevin – which is where a breathing tube is inserted to help the patient to breathe.
Bianca's efforts demonstrate that bystanders are the critical first link in the 'chain of survival'.
Early CPR and defibrillation are key links in the "chain of survival" – a process which can help save the lives of people in sudden cardiac arrest,' Chris said.
¬'The six steps in the "chain of survival" are, early recognition of cardiac arrest, early access to emergency care (calling 000), early CPR, early defibrillation, early advanced care (paramedics) and definitive care (hospital).'
Kevin was flown by air ambulance helicopter to The Alfred Hospital where he spent one week in intensive care before he was transferred to the cardiac ward.
He is now recovering at home after having four stents inserted into his heart.
Chris said Bianca was an incredible help on the night.
'Bianca also assisted us by giving us (paramedics) all the details about her dad while we continued resuscitation efforts,' he said.
'She should be congratulated on her ability to stay calm during a very stressful situation.'
Chris presented Bianca with an Ambulance Victoria bystander award to recognise that her quick thinking and CPR contributed to her dad's survival.
'When I found out I was getting an Ambulance Victoria bystander award, I was in tears,' Bianca said.
'It was really nice for the paramedics to reaffirm what I did on that night.'
Chris said it was surreal meeting Kevin and Bianca.
'It is so great to see Kevin in a much better light. I was surprised, but happy to hear that Kevin had been discharged from hospital.'
Kevin was extremely thankful for the efforts of his daughter and the paramedics.
'I can't thank Bianca enough and just always want to give her a hug – I am so glad she stood up and did what she had to do,' he said.
'As for the paramedics, I can't knock them. I am here today and I am doing well. I just can't thank them enough – I'm alive.'