Lake Boga man thanks paramedics
September 5, 2016 | in Community News
Lake Boga man Jim Blackwood didn't see much of this year's Thank a Paramedic Day on July 28.
He woke feeling unwell, and his wife called Triple Zero [000].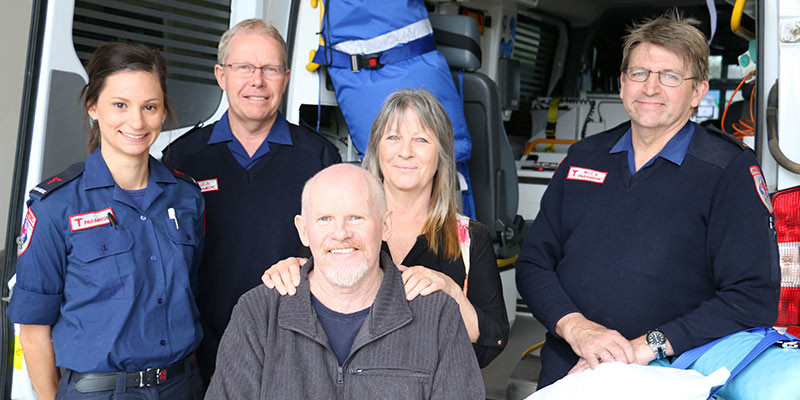 When MICA paramedic Peter Kiel and Advanced Life Support paramedic Libby Pellegrino arrived Jim was having a heart attack.
MICA paramedic Wes Ewart arrived soon after.
Peter Kiel said when they arrived it was clear Jim was quite sick so they put the heart monitor on Jim's chest on for a 12 lead assessment.
"We had just completed the assessment and started treating when Jim went into cardiac arrest," Peter said.
The defibrillator pads were put on Jim and he was delivered a shock with the defibrillator within 20 seconds of him going into cardiac arrest.
"He was back with us within two minutes."
Jim then became the area's first patient to undergo a procedure where paramedics give clot-busting thrombolytic medication to clear a life-threatening clot in a blocked coronary artery, reducing the amount of damage caused to Jim's heart.
It was the first time a patient had gone into cardiac arrest in front of Libby Pellegrino, who is 18 months into her career as a paramedic.
"It's a really good outcome. We were able to act quickly when he was going into cardiac arrest," Libby said.
MICA Paramedic Wes Ewart said giving patients the clot busting thrombolytic drugs will save lives.
"It's pretty much bringing the hospital management to the patient," Wes said.
"We are doing exactly what the hospital would have done but there's a time saving factor."
Three weeks after Thank a Paramedic Day Jim caught up with Libby, Peter and Wes, and he can't thank the paramedics enough for saving his life.
"I ended up going into full cardiac arrest and I know that without these people being there I wouldn't be here and I have got five grandchildren that would be devastated, and a wife," Jim said.
"The paramedics cared not only for the patient, but also for your spouse that's sitting there watching this unfold and you've got to take your hat off to them."
"Peter came and saw me in hospital and that was a big lift. I was nearly in tears just from him coming in to see me and see how I am."