Jordan's incredible fight for life
March 6, 2017 | in Community News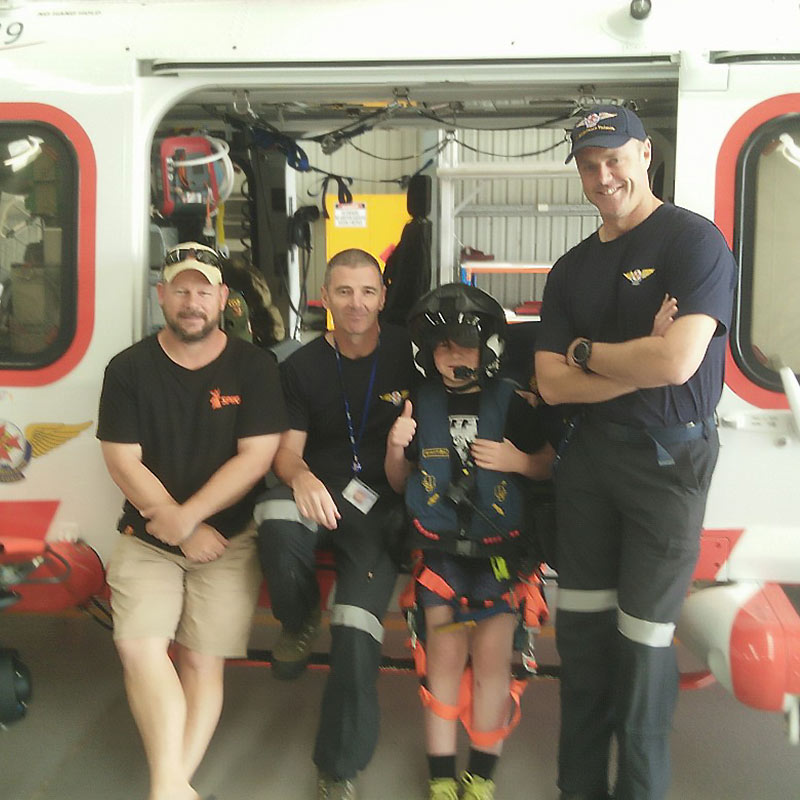 Ten-year-old Jordan was critically injured when he was accidentally run over by a 4WD in Victoria's north-east last October.
The triple-zero call set off a five hour battle by paramedics to keep him alive, as he was bleeding from internal injuries and his lungs were severely damaged.
When intensive care paramedics Tegwyn McManamny and Paul Bellman arrived at the rural property Jordan was lying on the ground. He was conscious but quiet, which is unusual for a boy his age. .
Paul said it was obvious Jordan was in a serious condition.
'On examination he had significant chest injuries including a collapsing lung from where the car's tyre had gone over him,' Paul said.
While performing a complete assessment paramedics placed Jordan on oxygen and inserted intravenous drips into his arm and ankle. He was also given medications for nausea and strong pain relief.
'Despite his injuries, which included suspected bleeding from internal injuries and the suspected damage in his chest, Jordan was very brave and stoic throughout his care,' Tegwyn said.
Paramedics gave him fluid through the drip in his arm to maintain his blood pressure, which they suspected was falling due to him bleeding internally from cuts to his liver and spleen and the impact of his chest injuries.
Despite paramedics' initial efforts to stabilise Jordan, his condition continue to take a turn for the worse: His blood pressure was falling; the collapsed lung was now causing a low level of oxygen in his blood; he was becoming increasingly oxygen deprived and paramedics said his colour was becoming as blue as their uniforms.
Air trapped outside Jordan's lung had caused pressure in his chest which was preventing his lung from fully inflating adding to his life-threatening condition. A needle was placed in his chest to remove the air and allow his lung to reinflate.
All of these interventions were performed by the intensive care paramedics within six minutes of arriving at the scene.
They were soon joined by paramedic Frank O'Brien and Ambulance Community Officer Megan Vearing.
With a cervical collar in place, Jordan was then placed on a specially designed spinal mattress and prepared for the arrival of the helicopter.
Ten minutes after the initial triple zero call, and before the first ambulance arrived, an air ambulance helicopter was dispatched. Regular updates on Jordan's condition were provided to the helicopter while it was en route.
When Intensive care flight paramedic Darren Hodge arrived, Jordan's lungs were beginning to fail to oxygenate his blood and his blood pressure was dangerously low – this time it didn't appear to be as a result of air but of bleeding instead.
'The needle inserted into his chest indicated that he had blood leaking into his chest cavity,' Darren said.
'Using a portable ultrasound machine I saw there was blood flowing into his abdomen and he had a collapsed lung.
'His lungs were bruised from the injury and blood was coming out of the tube in his chest. His heart rate dropped from 134 beats per minute to just 17.
'We started giving him a blood transfusion using blood that's carried on the air ambulance helicopter.
'In the space of a minute Jordan gave me two large frights – due to the volume of blood he was losing, and due to the fact that the chest injury was impairing gas exchange in the lungs.
'I performed a procedure called a finger thoracostomy where a hole was cut in the side of his chest and I inserted a finger. It's the first time paramedics have used the procedure in Victoria on a child.
'As a result, more blood came out from his chest cavity. We then needed to put Jordan into an induced coma to reduce the stress on his body and ensure he was getting enough oxygenated blood to vital organs.
'When we put someone into a medically induced coma that has low blood pressure and compromised breathing, the procedure itself can kill.
'He had high pressure in his chest due to severely injured lungs. You need to keep low pressure in the lungs to maintain blood pressure.  I was continually doing a blood gas analysis using equipment we carry.
'I had to ensure enough pressure in the lungs to ventilate them but not too much pressure which would cause a dangerous drop in blood pressure.'
The fact that Jordan's accident happened 350 kilometres from Melbourne made things more challenging.
'When someone has a cardiac arrest you often hear people talking about the chain of survival,' Darren said.
'It was similar in Jordan's case, with every decision made that day critical to his survival.
'A combination of the call to triple zero; the work by the first paramedics at the scene; the efforts by an intensive care flight paramedic back in Melbourne who was liaising with a doctor at Royal Children's Hospital regarding some of the treatment; our flight coordinators who managed the logistics of the flight; the helicopter crewman who assisted me with treatment and the pilot who had to fly at low altitude with night vision goggles because of the critical nature of Jordan's condition.
'Paramedics replaced Jordan's entire circulating blood supply with the blood carried on the helicopter and carefully managed his breathing to maintain a low blood pressure.
'When we arrived at the Royal Children's Hospital we had just exhausted our blood supply and Jordan was starting to deteriorate.'
Jordan is back at school. He was recently reunited with Tegwyn and Paul in Wodonga, and with Darren at the air ambulance base.
'It's awesome,' Darren said. 'There's a small amount of euphoria when you see a child who was as critically unwell as Jordan has completely recovered.
'It was the most challenging job I have done in my 30 years as a paramedic. For us to be able to deliver that level of care to Jordan and get the result we did makes me proud to be a paramedic.
'It's no exaggeration that Jordan's life was on the edge the entire time.'