Ivanhoe man thanks lifesavers
April 11, 2016 | in Community News
A Sunday swim ended in a medical emergency, for Ivanhoe resident Anoop Vaghani, who collapsed, suffering a sudden cardiac arrest in front of his nine-year old son.
Less than three weeks after the 43-year old father fell unwell at the Ivanhoe Aquatic and Fitness Centre, he was reunited with four paramedics who responded to his case.
"I will never forget the faces of the paramedics – if it wasn't for them, I wouldn't be here today."
Anoop had experienced some pain while he was doing laps of the pool, so took a short break and the pain went away.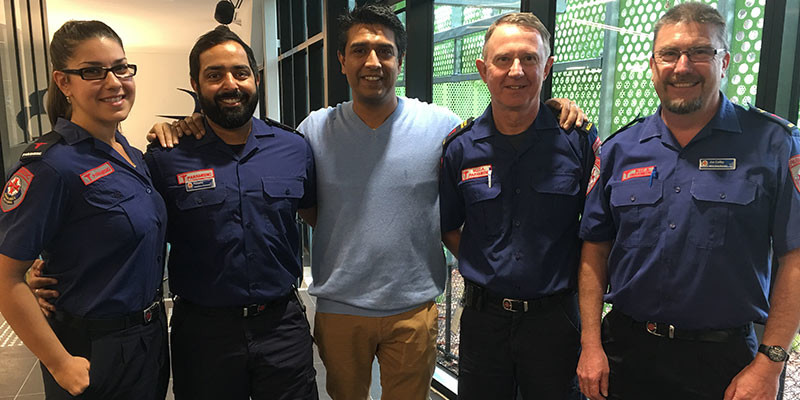 "I thought I had bad indigestion," Anoop said.
"I continued to play in the pool with my son and then thought that I would try and swim a few more laps – but the pain came back."
Anoop got out of the water while his son kept playing.
"At this stage, I thought, it's time for us to go – so we got changed. As I approached the reception, I felt even worse, so I sat outside to get some fresh air," Anoop said.
Within seconds, the chest pain intensified and Anoop told his son to alert the staff at the centre.
The centre's staff, Eli Ali and Missy Ali, immediately called Triple Zero.
The brother and sister team then worked together to ensure Anoop was as comfortable as he could be before ambulance crews arrived.
Ambulance Victoria Clinical Support Officer, Gary Becker said Advanced Life Support (ALS) paramedics, Anna Kioulzitzis and Purusha Hillary arrived to find Anoop in pain, but talking.
"However, within moments of this first crew arriving, Anoop went into cardiac arrest," Gary said.
"Anna and Purusha defibrillated Anoop and he regained consciousness, so they continued to treat and manage Anoop's pain, as well as calling a Mobile Intensive Care Ambulance (MICA) crew for backup – myself and Jim Coffey."
While the MICA crew was en route to the centre, Anoop had a second cardiac arrest.
"Upon our (MICA) arrival, further treatment commenced, before Anoop suffered a third cardiac arrest," Gary said.
"MICA then intervened with medications to stabilise Anoop's heart – one particular medication known as 'Amiodarone' stabilises undesirable heart rhythms," he said.
Within seconds, Anoop regained consciousness.
He was taken to the Austin Hospital, where he was immediately transferred to the Cath lab for emergency surgery on his heart – Anoop had a stent inserted into a blocked artery.
Anoop said while he was in the Cath lab, Anna came in to visit.
"Anna poked her head over the top of mine and I lit up – it was so nice to see her face again – it was like there was an angel over the top of me. She looked at me and smiled and I smiled back," he said.
"The work paramedics do is just incredible."