Highett mother meets paramedics and strangers who came to her aid after cardiac arrest
September 21, 2016 | in Community News
A Highett mother-of-two who suffered a cardiac arrest at a Melbourne gym has been reunited with the bystanders and Ambulance Victoria paramedics who came to her aid.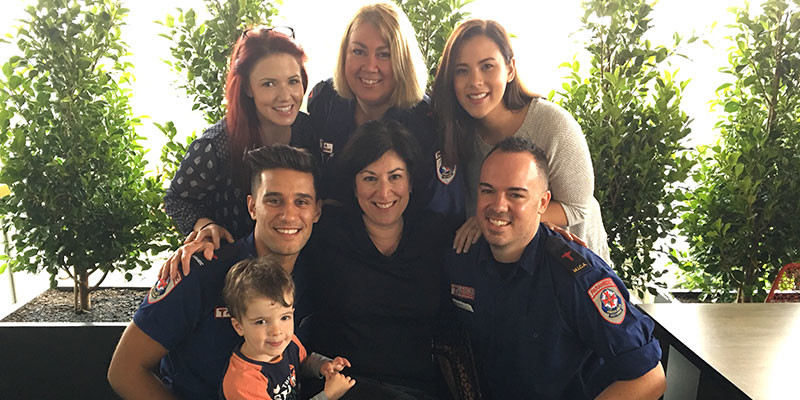 Julie Beyers was at a Saturday morning gym class in June when she fell unwell.
"I was participating in a class when I suddenly collapsed half-way through it," Julie, 49, said.
"I had felt fine during the day before the class. I'd changed the sheets, put the laundry on and told my husband I might go to the farmer's market after the gym."
When Julie went into cardiac arrest, one of the gym trainers immediately called Triple Zero (000), while two of the class participants, Jessica Goodall and Natalie Holmes quickly initiated effective Cardiopulmonary Resuscitation (CPR).
"Natalie and I quickly went to Julie's side and were waiting for the Triple Zero call taker's instructions to start CPR," Jessica said.
"The call taker said someone needed to start doing compressions and somebody needed to count. Jessica said she would start the compressions," Natalie said.
The high school friends worked together until paramedics arrived.
"It was a scary thought having to do CPR on someone, given when you do CPR training you're practicing on a dummy – I never thought I would have to use my CPR training skills on someone," Jessica said.
Mobile Intensive Care Ambulance Paramedics (MICA) Michael Holmes and Glenice Winter and Advanced Life Support Paramedic (ALS) Nathaniel Zahariou presented Jessica and Natalie with an Ambulance Victoria commendation to recognise that their quick thinking and effective CPR contributed to the Julie's survival.
"When I arrived, great CPR was in progress," Michael said.
"Without a doubt, Jessica and Natalie saved Julie's life. If it wasn't for bystander CPR the result would have been very different."
Julie's remarkable story serves as a perfect example of how important bystanders are and how critical early CPR is when somebody suffers a cardiac arrest.
Ambulance Victoria Manager Emergency Co-Responder Programs Trevor Weston said CPR was critical in improving outcomes for people in cardiac arrest.
"What you do before emergency services arrive can greatly improve the chances of someone's survival, any CPR is better than none," Trevor said.
"Early CPR and defibrillation are key links in this 'chain of survival' – a process which can help save the lives of people in sudden cardiac arrest."
The six steps in the 'chain of survival' are, early recognition of cardiac arrest, early access to emergency care (calling Triple Zero), early CPR, early defibrillation, early advanced care (paramedics) and definitive care (hospital).
Michael said there was no 'chain of survival' without CPR.
"Early CPR is such an important link in the chain. I feel privileged to be a part of this chain of survival, and without Jessica and Natalie, our job would have been a lot more difficult," Michael said.
The Metropolitan Fire Brigade (MFB) firefighters also responded to the case as part of the Emergency Medical Response (EMR) program.
The EMR program was established in 2000 and aims to improve cardiac arrest survival rates through the rapid provision of early effective CPR and defibrillation from trained first responders.
After Jessica and Natalie performed CPR and Michael had attached a defibrillator to Julie and shocked her once, firefighters arrived and continued CPR under the direction of paramedics.
A defibrillator is used to analyse a person's heart rhythm and shock a person's heart back into normal function if they are in cardiac arrest.
Julie spent less than a week in The Alfred Hospital after having two stents put in.
Julie couldn't praise the work the paramedics, Jessica and Natalie enough.
"The job paramedics do is awesome and I am profoundly grateful. I am so glad I had the opportunity to meet them because it just means so much to me," Julie said.
"I also think both Jessica and Natalie are absolutely amazing – they stepped up without thinking twice – and now I am here today."