Grand final bystanders help Rob play on
October 11, 2016 | in Community News
Rob McCarthy was a toddler when the Bulldogs won the grand final in 1954 and doesn't remember it.
He also missed the Doggies' grand final win last month when he collapsed and his heart stopped beating at the MCG a couple of minutes before the final siren.
The last thing Rob remembers was the Bulldogs were two points up and he was excited.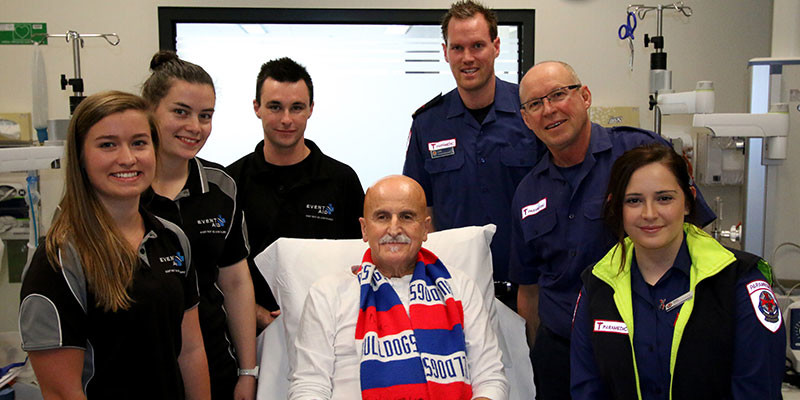 'I actually said to someone sitting beside me I hope they have an ambulance outside the MCG because I am probably going to have a heart attack if we win,' Rob said.
It was prophetic. Rob had a heart attack, which then led to a cardiac arrest.
Luckily for him, off-duty paramedic and Richmond fan Liam Moore was a few seats away and went down to help.
'I saw Rob sitting in his chair and he didn't look very well,' Liam said.
'He had a weak pulse at that stage but that quickly disappeared so we got someone to get him down on the ground and we started CPR.
'When I got there he still had a pulse so I knew we had a chance.'
MCG first aiders and Ambulance Victoria paramedics John Collins and Ellie Stewart who working at the MCG arrived soon after and used a defibrillator to shock his heart back into a normal rhythm.
The final siren had sounded when Rob regained consciousness and tried to sit up. John gave Rob some oxygen and said Rob had one important question.
'He asked me who won and I told him Footscray and he gave me the "thumbs up",' John said.
Ellie said as they put Rob on the stretcher to take him to the ambulance, there was a big reaction from the crowd.
'Everyone was cheering and Rob gave a double thumbs up and everyone was clapping,' Ellie said.
Rob has since been cared for at the Epworth Hospital where he yesterday reunited with the paramedics and first aiders who helped save his life.
'I wanted to see Liam and they all saved my life. It's emotional, I can't describe it. It's phenomenal,' Rob said.
'I am a very lucky guy and I love them all.'
Rob has now become a champion for more Automatic External Defibrillators (AEDs) in the community.
'Say I had been at a restaurant, why should I have died because there wasn't a defibrillator?
A defibrillator saves your life. Businesses should start getting defibrillators and teach people how to do CPR.'