Fight of his life: Karate instructor saved by bystanders
August 31, 2016 | in AED
One minute Tyrone Johnston was instructing a karate class, the next minute he was literally fighting—for his life.
The 54-year-old karate sensei was leading about 40 students during his usual Monday night class at the Iramoo Community Centre in Wyndham Vale when he suddenly became 'light-headed'.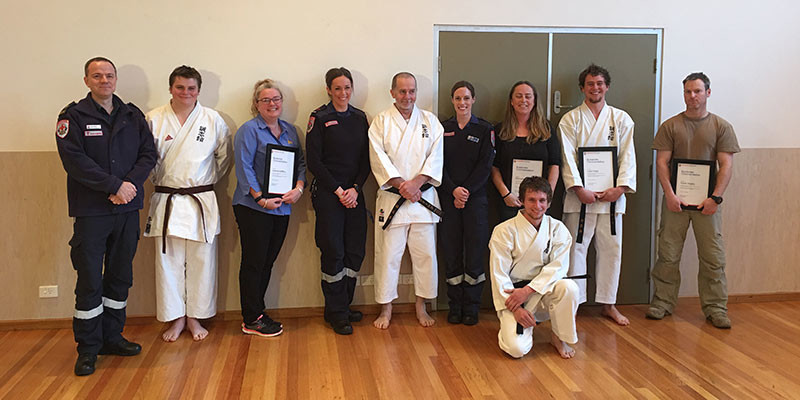 Tyrone (pictured in the middle, white karate uniform) with the bystanders and paramedics who saved his life
'Suddenly I just started feeling a bit dizzy so I thought "I better prop myself up against a wall",' Tyrone recalls.
'From what I've heard, it sounds like it was all hands on deck and everyone united to save me.'
What happened next is still a marvel to the Ambulance Victoria crews who attended the scene.
Paramedics say Tyrone's recovery goes to show that if someone goes into sudden cardiac arrest, anyone can step in to help save a life.
As Triple Zero (000) was being dialled, a team of quick-thinking bystanders stepped in and commenced CPR before rushing to retrieve a nearby Automated External Defibrillator (AED), only recently installed at the centre.
Black belt Luke Kapp, 21, was standing just metres from the man who had taught him karate for the past 11 years when he suddenly collapsed.
Also witnessing the collapse was Michelle Melrose, who had skipped her usual Monday night run to watch her two children in Tyrone's class.
She had learnt CPR just three weeks earlier.
With Luke doing chest compressions, Michelle began mouth-to-mouth resuscitation. They were soon aided by Kane Hoskin, a former army medic and father of two other karate students.
In a room nearby, Iramoo Community Development Officer Joanne Griffiths retrieved the defibrillator from a wall, having been trained to use it just a few months earlier.
'Once we reached him, we opened up the defibrillator and it talks to you step by step, so we followed those instructions and gave him a shock,' Joanne said.
'I just kept thinking "thank goodness we installed that defib".'
With a smile, Michelle recalls the moment she heard Tyrone let out a deep breath.
'It was as though the entire room signed with relief,' she said.
'Slowly he started to get colour back to his face. It was just the best thing.'
Werribee Advanced Life Support paramedics Jade Berrill and Hayley Cobble were the first ambulance crew to arrive at the scene.
'I've been called to jobs like this over the years and this is the first time I've ever seen anything like it,' Hayley said.
'We were called to a cardiac arrest and we knew bystanders were performing CPR while we were on the way, but to walk in and see the patient sitting up – breathing and talking – was unbelievable.'
MICA Paramedic Benjamin Costin said while Tyrone was still extremely sick, the bystanders had done everything possible to improve his chance of survival.
'This case shows that even healthy people can have sudden health issues, so having a defibrillator close by and people who are willing to step in and have a go at CPR is vital,' Mr Costin said.
Ambulance Victoria Point Cook Team Manager Brett Parker, who also attended the case, praised the bystanders and said Tyrone's close call was a great example of how the 'chain of survival' is absolutely vital.
'The six steps in the 'chain of survival' are early recognition of cardiac arrest, early access to emergency care (calling Triple Zero), early CPR, early defibrillation, early advanced care (paramedics) and definitive care (hospital),' Mr Parker said.
Now in good health, Tyrone has returned to his familiar spot at the front of the class—much to the delight of his family, students and the centre's staff.
'The doctors still couldn't work out why this actually occurred,' Tyrone said.
'All I know is I'm very thankful and happy I had people around me who stepped in and did what they did.'
Further Information