Meet the team behind PARAMEDICS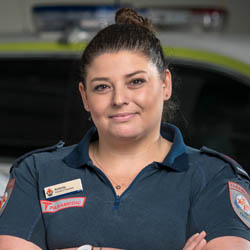 AMANDA
Paramedic

Originally a Sydneysider, bubbly Amanda's been with Ambulance Victoria for just over a year. After a previous life in hospitality, she moved to Melbourne in 2009 and went back to school to study paramedicine. Amanda admits she might need to 'toughen up' but equally loves the humanity and compassion of the job.


CARINA
MICA Paramedic
Carina's spent her life looking after people, having first worked as a nurse, followed by a 14-year career with Ambulance Victoria. It's the elderly patients that tug at her heartstrings. Carina also volunteers with a group that assists defence and emergency services personnel who suffer from PTSD and other mental health issues.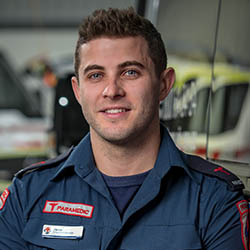 JAMIE
Paramedic
Laid-back larrikin and kickboxing fan Jamie has been a paramedic for 4 years. Only months into the role, he was called to his biggest job on November 21, 2016 – the day the unprecedented outbreak of thunderstorm asthma hit Melbourne and left emergency services under siege.


LEONARD
Paramedic

Leonard's been a paramedic for 4 years and is also a clinical instructor. He's obsessed with anatomy and previously worked as an undertaker! While studying, one of Leonard's close friends passed away suddenly. The tragedy made him realise just how precious life is and cemented his decision to become a paramedic.


MARK
MICA Paramedic
Mark grew up in a small NSW country town and knew as a teenager he wanted to be an ambo! With 13 years' experience, Mark has seen most things but, as a new dad, a call to a paediatric case is what he dreads most. Mark is often mistaken for his twin brother Andy, who is also a Melbourne paramedic.


MATT
MICA Flight Paramedic
A paramedic with air ambulance, Matt flies all over Victoria transporting patients to specialist services too far by road. Matt who immigrated to Australia from England when he was 10, has been a paramedic with AV since 1999. With a young family of his own, Matt has plenty of empathy for parents and helps keep them calm during stressful situations.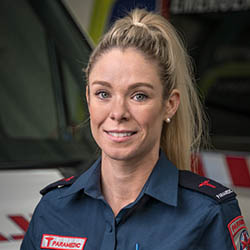 MICHELLE 'RISKY'
Paramedic
Born in country Victoria, Michelle has been a paramedic for 9 years. She began her working life as a physio assistant but being stuck inside didn't agree with her adventurous spirit! Michelle loves the fact no two days on the job are the same and it's taught her to never take life for granted.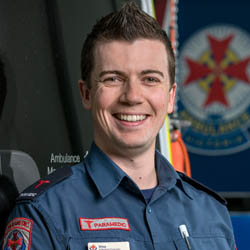 MIKE
Paramedic
Incredibly proud to work for Ambulance Victoria, Mike recently celebrated his first anniversary as a paramedic. He had the perfect training for this vital role – as an emergency nurse for 5 years, Mike learnt how to deal with every type of patient and nothing fazes him on the job.


NATALIE 'NAT'
Paramedic
Nat is passionate about her chosen profession. A paramedic for 15 years, there aren't many scenarios that she hasn't dealt with, and she has a host of funny stories to tell about her time on the road. A mum of three, Natalie adores her family and admits that the paediatric cases do hit close to home.


NICOLA 'PICKLE'
Paramedic
A huge footy fan who loves travelling, Nicola has been a paramedic for 9 years. Her light-bulb moment came when her Nan was taken to hospital and her Mum looked at Nicola and said, "That's the job for you darling" – and so it was.



RAY
MICA Flight Paramedic
Ray's been a paramedic for 22 years, 7 as a MICA flight paramedic. Prior to joining Ambulance Victoria, he was an industrial chemist. For Ray, his boyhood dream of flying for a living has come true. "There's no one you'll find in the air wing who doesn't love coming to work." Ray's wife is also a paramedic, and they're expecting their first child.


ROB
Motorcycle Paramedic
Rob's been a paramedic for 23 years and a motorcycle responder since 2012. With the Melbourne CBD as is his office, Rob navigates the heaviest traffic to help patients at their most critical time. He loves his career on 2 wheels… except during Melbourne's winter! Rob has 3 children and recently became a proud grandfather.


TARUN 'TAZ'
Paramedic
Taz arrived in Melbourne from India in 2000. A medical professional in his homeland, he's now been a paramedic with Ambulance Victoria for 17 years. Still a little "old school" Taz uses a printed street directory to get to jobs and insists it's better than a GPS.