Camberwell cyclist thanks paramedics
June 15, 2016 | in News
Camberwell resident David Moore has thanked the paramedics who treated him following a serious cycling accident earlier this year.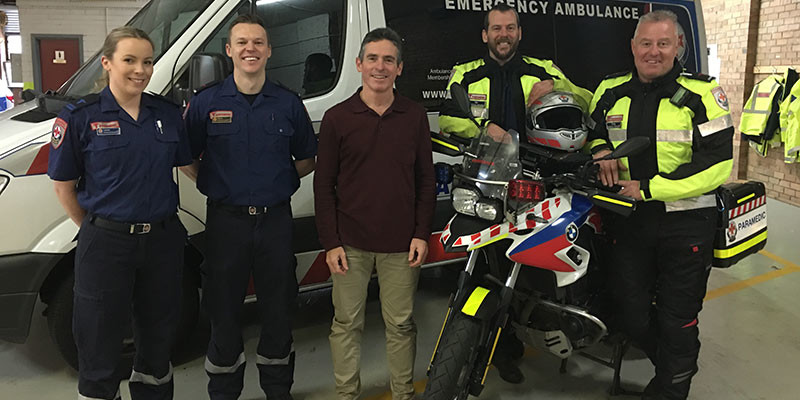 The 56-year old was riding home after a day cycle along the Main Yarra Trail from Altona when he had a head-on collision with another cyclist in February.
"It was a magnificent day – I sat on a hill in Altona Meadows and had my lunch while overlooking the city and the bay, before I got back on my bike to ride home," David said.
"As for the accident, I was cycling downhill, when another cyclist swerved to avoid a puddle, ending up right in my path."
The two bike riders knocked shoulders at high speeds, resulting in David falling off his bike and on to the pavement.
The experienced bike rider hit his face, broke his nose, had severe chest pain and suffered a serious laceration to his arm after he tried to break his fall.
Paramedics treated David at the scene and took him to the Alfred Hospital for further treatment, where he remained for a week.
"Apparently I was answering questions and repeating myself to the paramedics, but I have no recollection of the event – from a few minutes before the head strike until some hours when I woke up in the CT machine at the hospital," David said.
Almost four months after the accident, three of which were spent in a neck brace, David is still attending regular physiotherapy appointments and has recently started driving again.
"On the weekend, I also got back on my bike, and cycled to the city and back," he said.
David was keen to be reunited with the paramedics who came to his aid, including two paramedics from the Paramedic Motorcycle Unit, Craig Blick and Tim Hall, and two Advanced Life Support paramedics (ALS), Lauren Morris and Wayne Hall.
"Paramedics are fantastic people. The fact that they can go up to a total stranger and do amazing things at the drop of the hat is absolutely remarkable," he said.
"I cannot thank them enough."