Bourke Street bystanders amongst heroes honoured today for saving lives
November 20, 2017 | in Community News
The many compassionate bystanders who stepped in to give first aid and comfort to those injured in January's Bourke Street tragedy were amongst Victorians honoured at a moving Community Hero Awards ceremony at Parliament House today.
'Hero cabbie' Lou Bougias and City of Melbourne Councillor Tessa Sullivan accepted a special public medal, on behalf of every person that assisted grateful paramedics to save lives in Bourke Street on 20 January 2017.
With many bystanders remaining anonymous, the award is lasting recognition of the significant contribution made by the people of Melbourne to provide care and comfort, and ensure that no patient was alone while paramedics were on the way.
Also recognised today were 14 Victorians from across the state who had helped save lives at the scene of a medical emergency. Minister for Ambulance Services, Jill Hennessy, presented medals to the humble heroes, in appreciation of their brave and selfless actions.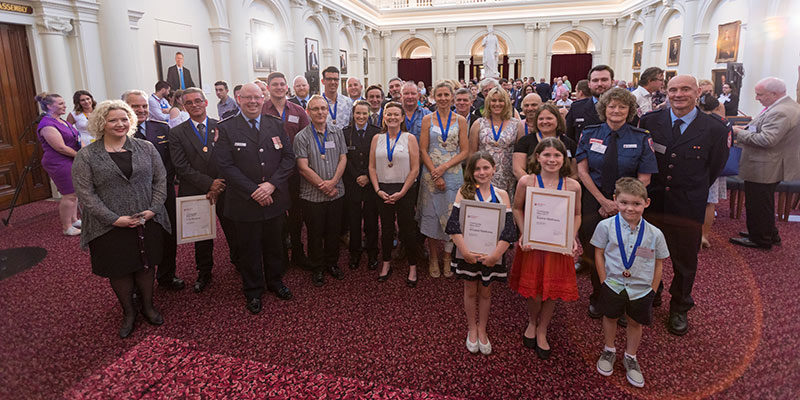 Among today's recipients was four-year old James Tonks who ran for help when his grandmother fell heavily and hit her head in a bicycle accident, and teen Douglas Mancarella, who performed CPR on his dad when he suddenly collapsed while the pair were working on the family farm.
Other recipients include members of a Glen Eira soccer club who used the club's defibrillator to help revive a father who went into cardiac arrest during a kids-versus-parents soccer match, and two young sisters who called Triple Zero (000) and provided basic first aid when their dad had a seizure at home.
Ms Hennessy said all Victorians can be proud of the way their fellow community members responded to the emergencies.
"We are honouring a group of everyday people who were thrust into an unexpected situation and rose to the challenge," Ms Hennessy said.
"They took swift action to help and in some cases lead the response to an emergency involving family, friends, workmates, and in many cases complete strangers.
"Today, I'm proud to stand alongside our ambulance paramedics to recognise their acts of bravery in an emergency."
In congratulating this year's award recipients, Ambulance Victoria CEO Tony Walker said he was proud to add their names to the heroes honour roll.
"Medical emergencies can occur anytime, anywhere.
"It's important we recognise and take inspiration as a community from the confidence that each of our heroes showed to put their own fear aside and step in to help someone in a life or death situation.
"We have some of the most highly skilled paramedics in the world but we know from all our evidence that what a bystander does in those first critical minutes before we get there can mean the difference to someone's survival.
"Knowing first aid, learning CPR and teaching children when and how to call Triple Zero (000) is something everyone can do, to be able to assist others."
2017 is the 18th year of Ambulance Victoria's Community Hero Awards.
2017 Community Hero recipients include:
Heroes of Bourke Street
It was a typical Friday lunchtime in Melbourne's CBD. City workers and shoppers in Bourke Street Mall were oblivious to events unfolding on nearby Swanston Street. No one could have predicted the tragedy that was about to happen as a car turned left into the busy pedestrian mall.
Emergency services quickly arrived and worked together to care for patients at the scene. However it was bystanders who first ran to help the injured, not knowing if they were still in danger themselves. Melburnians comforted people in distress, cared for patients with horrific injuries and performed CPR in attempts to save the lives of complete strangers.
Every bystander in Bourke Street on 20 January 2017 made a profound difference to the injured and traumatised, and supported paramedics to provide their best care in very difficult circumstances.
It takes a community to save a life and Melbourne was truly united that day.
James Tonks
James Tonks is proof you're never too young to help in a medical emergency. The then four-year-old didn't hesitate to help when he and his grandmother Maryke Van Duyl, 65, came off her bike in Gippsland last November.
James quickly picked himself up and saw his grandmother unconscious on the Paynesville bike path with a head injury. He tried to wake his beloved "Oma" but when she couldn't be roused, it was James' next actions that made all the difference, as he ran to get help from a neighbour.
Maryke was taken to hospital by paramedics and cleared of a serious head injury.
Douglas Mancarella
Paul Mancarella, 51, was moving sheep on his Gippsland property with his teenage son, when he suddenly collapsed on 30 July 2017.
Douglas, 17, had learnt some CPR at school a few years beforehand. The teenager knew his dad was in trouble, checked for a pulse and called Triple Zero (000). He followed the call taker's instructions and started CPR in the paddock of their Mirboo North farm.
Paul, 52, was defibrillated six times by paramedics and regained a pulse before being flown to Monash Medical Centre in a critical condition.
The teenager showed incredible maturity beyond his years and, thanks in great part to the immediate CPR he provided, Paul has made a full recovery.
Tara Carrafa, Stewart Howell, Joanne McCutcheon, Alexander Yianni and Rachael Yianni – Glen Eira FC
A friendly kids-versus-parents soccer game took an unexpected turn when Robert Martiniello, 52, collapsed on 26 August 2017 at Carnegie's Lord Reserve.
Members and spectators at the Glen Eira FC community soccer club responded as a team when Robert went into cardiac arrest, commencing CPR and defibrillation with the club's defibrillator while paramedics were on their way.
It is in no small part due to the combined quick action of the club that father-of-one Robert has since recovered and is back working part-time as a transport manager.
Annabel and Sophie Matthews
Sisters Sophie and Annabel Matthews were relaxing watching TV after school in their Richmond home when a noise downstairs caught Annabel's attention on 21 October 2016.
Annabel, then seven, went to investigate and was scared to find dad Luke, 35, having a seizure. She called for Sophie, then nine, to call Triple Zero (000) and her older sister gave the call taker critical information about Luke's medical history. Annabel made sure there was nothing dangerous near her dad and waited at the door for paramedics, while Sophie stayed on the phone.
Despite being frightened and uncertain, the girls showed incredible maturity and courage to step in and help save their dad's life.
Pamela Davis, Darcy Hutchinson and Bruce Killey
Bill Patterson, 61, had no idea he was sitting between two men who would help save his life as he waited for the train at Lara, near Geelong, on 18 November 2016.
Bruce Killey was also waiting for the 7.05am V/Line service to Melbourne when he initially thought the gentleman next to him was falling asleep. Darcy Hutchinson, sitting on Bill's other side, also realised something was wrong. As Bruce and Darcy worked to save Bruce, fellow commuter Pamela Davis also stopped to help as their train pulled into the platform.
Paramedics defibrillated Mr Patterson before transporting him to Geelong Hospital in a critical condition.
Bruce, Darcy and Pamela made a significant contribution to Bill making a full recovery and getting back to work as a physicist within weeks.
Greg Purcell and Tony Smith
Kevin Law, 65, was on a morning bike ride when, feeling fatigued, he sat down on a Sunbury park bench for a rest.
Local teacher Greg Purcell was driving to work on 7 February 2017, when he noticed Kevin's bike leaning on the park bench. Greg initially thought its owner was stretching but on second thoughts wondered if the cyclist might be in trouble and decided to investigate.
Finding Kevin pulseless and turning blue, Greg called Triple Zero (000) and started CPR. When paramedics arrived and started treating Kevin, off-duty CFA senior station master Tony Smith was driving by and stopped to help with CPR.
Greg and Tony's combined efforts at the scene were vital to Kevin's full recovery. Kevin has since come out of retirement and is working part-time as a social worker.