Ambulance Victoria hosts Vanuatu student paramedics
April 12, 2019 | in Community News, News, Operations
Ambulance Victoria has hosted four paramedic students from ProMedical Ambulance Service Vanuatu as part of a program to improve patient outcomes on the Pacific Islands.
The students spent three weeks attached to Ambulance Victoria crews to observe patient practice and assist with the work in Melbourne.
Jerome Sese and George Jack, arrived in March spending their time working with paramedics in the north eastern suburbs. Philimon Kampai and Yvong Toa arrived in April and will spend the next three weeks on shifts with local paramedics.
It is their first visit to Australia and according to Mr Sese a highlight has been working with and learning from the paramedics in Melbourne.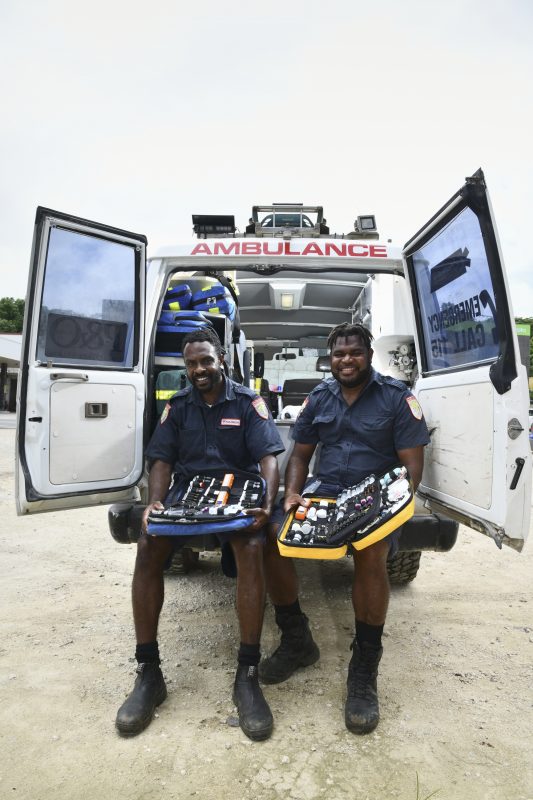 "The care of patients and the extent of treatment paramedics are able to do is much more than we can," he said.
He was impressed with how well the ambulances are fitted out and said he wanted to improve patient care with a better stock of medications when he returns home.
"I have also learnt more about how to use the equipment we do have," he said.
Mr Jack said he had fun working with the paramedics, learning the different treatments available for patients.
The students were blown away with the scale of everything in Melbourne from the size of the urban area, buildings and the amount of traffic to the number of jobs that Ambulance Victoria covers in a day or week.
Mr Sese is based on Espiritu Santo where the population is scattered across the island.
"I did 17 jobs in my first three days in Melbourne and I would do that in a month at home," he said.
Mr Jack said one of the most surprising things was the level of traumatic incidents they have seen here.
"There are more cars and more people and a lot more trauma," he said.
Vanuatu is a collection of islands with small and often remote villages so providing paramedic and medical care to locals and tourists is challenging.
"In Vanuatu, particularly Espiritu Santo, we have to know the island because there are rarely road signs, land marks are given by the caller; you have to know how to find patients," Mr Sese said.
The paramedics and students do everything.  "We answer the phone, talk to the caller and then go out to treat the patient. If patients need to be medevac'd out – off the island – we also organise this".
"The visit to Australia wasn't all work, on days off I went to the zoo to see native animals, lions and a giraffe," said Mr Jack. "I also went to the footy."
"The footy was exciting, there were so many people cheering and yelling," said Mr Jack. "More people than on our island."
Ambulance Victoria Paramedic Peta Owen, who worked with ProMedical in Vanuatu as an Australian Volunteer clinical instructor, said this has been a terrific opportunity for the students to observe the application of Advanced Life Support and MICA skills.
The Ni-Vanuatu students study an Australian Diploma of Paramedicine online, an Australian standard curriculum course that was introduced by Ms Owen who also sourced a major sponsor to fund the students.
This online study is supplemented with face-to-face tutorials and clinical practice sessions by Australian Volunteers Program paramedics.
"We are very grateful that Ambulance Victoria has been so supportive of this project and I hope it can be repeated in the future," said Ms Owen.
ProMedical is a charity ambulance service operating on the islands of Efate and Espiritu Santo islands in Vanuatu and relies on overseas volunteers to aid in its development. This study tour to Australia was funded by a grant awarded to Ms Owen from the Australian Volunteers Program, which is an Australian Government initiative.
For more information visit: australianvolunteers.com
Photo credits: Darren James | Australian Volunteers Program