Ambulance Service Medals 2023 announced
January 25, 2023 | in News
Recipients of the Ambulance Service Medal (L-R, T-B): Dr Benjamin Meadley, Carmel Rogers, Brett Drummond, Julie Miller, and Lewis Mcdonald.
Ambulance Victoria personnel have been recognised with the Ambulance Service Medal (ASM) in this year's Honours list, awarded by the Governor-General of the Commonwealth of Australia. 
Nominated by their peers and considered by an independent process, the Honours List recognises Australians for their incredible achievements, service, and contribution to our communities.  
Brett Drummond


Emergency Management Unit
Beginning his career as a paramedic at AV in 2003, Brett has served in various frontline roles, including clinical instructor, team manager, and group manager; he currently holds a management position in the Emergency Management Unit. 
As a leader in emergency management, Brett has made an outstanding contribution to several disaster response events in Victoria. Of particular note, is Brett's significant contribution in implementing landmark changes in AV's review of the Thunderstorm Asthma event of 2016. 
Lewis Gerald

McDonald


Ambulance Community Officer

 
Lewis McDonald commenced service with Ambulance Victoria in 2000 as an Ambulance Community Officer (ACO). He continues this role in the small rural community of the Mitta Valley as the longest-serving current member of the Mitta Mitta ACO Team. He has also played a pivotal role in training team members who have just started their careers at Ambulance Victoria and supports and encourages colleagues to reach their full potential. 
Passionate about men's health, particularly the mental health challenges of returned servicemen living with Post Traumatic Stress Disorder and local farmers, he has been instrumental in ensuring services are accessible to those in need. 
Dr Benjamin Meadley


MICA Paramedic
Dr Benjamin Meadley commenced his career as an ACO in Anglesea in 1998 before taking up a paramedic position with Ambulance Service New South Wales in Sydney in 1999. He returned to work as a paramedic with Ambulance Victoria in 2003. 
As a qualified Mobile Intensive Care Ambulance (MICA) paramedic Ben has worked extensively across Melbourne before joining Air Ambulance Victoria as a MICA Flight Paramedic in 2009. He currently holds the position of MICA Improvement Lead. 
Throughout his career, Ben has maintained a keen focus on the education and wellbeing of paramedics, which led him to undertake his PhD, investigating the cardiometabolic and physiological health of Australian paramedics. He has been a driving force of innovation in the education of paramedics, with a long history of academic association through Monash University, where he helped re-design the Postgraduate Intensive Care Program.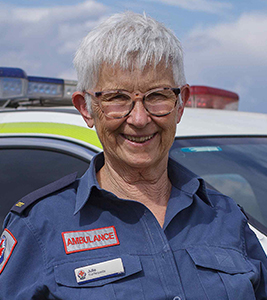 Julie Faye Miller


Community Emergency Response Team Leader

 
During her 15-year career at AV, Julie Miller has served as a valued volunteer Community Emergency Response Team (CERT) member, starting her journey in 2006 in Bethanga. She now holds the position of CERT Leader Bethanga/Berringa. 
As a founding member of CERT in Bethanga/Berringa, she has been instrumental in ensuring the local, widely dispersed rural community has 24-hour access to vital emergency care. She not only undertakes the critical hands-on operational role of a CERT but also provides an important link that maintains the team's cohesion, wellbeing, and support to ensure that they can provide timely responses to medical emergencies in the local community through early life-saving intervention and care of patients.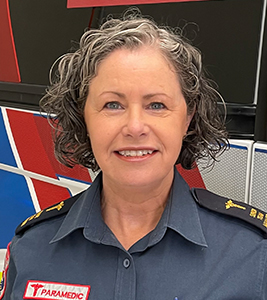 Carmel Louise Rogers


Senior Team Manager

 
Carmel Rogers commenced service with Ambulance Victoria in 2001 as an Advanced Life Support Paramedic. Her career advanced quickly, and within five years was working as a Senior Team Manager. She has also undertaken numerous interim roles in emergency management and currently works in operational service as a Senior Team Manager on the Mornington Peninsula. 
She has made a significant contribution to the area of community engagement. Leading community engagement CPR training (Call-Push-Shock) sessions for over 600 members of the public, together with attending community events to encourage community members to join the GoodSAM initiative, Carmel and her team have forged strong relationships with community leaders, stakeholders, and the broader community leading to a donation of over 24 additional AEDs for the district. 
During her 21-year career at Ambulance Victoria, there is no doubt that Carmel's efforts, with her team's support, will save countless lives and improve the resilience and capability of the community.