A rare milestone well done
October 20, 2020 | in Community News
Starting his career as a butcher might explain why during his training to be an Ambulance Officer, Bernard "Gossy" Goss, was naming body parts 'gravy beef' and 'rump steak' in his human anatomy lessons!
This month Gossy celebrates a rare milestone only a few at Ambulance Victoria have 40 years as a paramedic.
Gossy started training in 1980 and began working as a part of the Peninsula Ambulance Service team in Frankston before moving to Sale in Gippsland.
Today, he remains in Sale and has no regrets about his career change.
He is passionate about supporting the next generation of paramedics coming up the pipeline. "Oh my word. They are a dynamic and dedicated bunch. The crew I know in Sale know their stuff and are very capable"
A lot has changed in 40 years. "It's changed enormously. The biggest change for me is Advanced Life Support (ALS). We only had oxygen and penthrane back then".
Recalling his most notable call as a paramedic, Bernie says it was being the first on the scene during the Esso Gas explosion in Longford back in 1998 which claimed two lives and injured eight. "It's just the one job I remember and has stuck with me".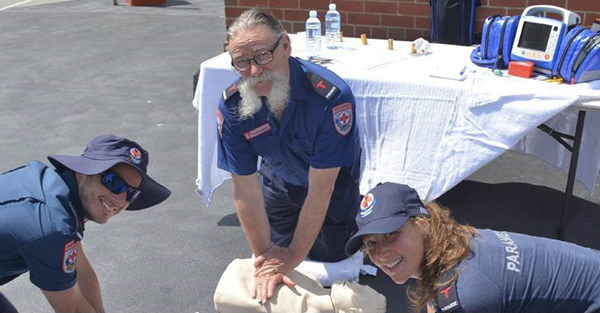 Gossy believes strongly in the importance of mental health support for those in health care and emergency services. He introduced the monthly mental health forum 'How Are You Travelling,' as a space for those in high pressure jobs to share thoughts, ideas, struggles or vent frustrations.
Gossy and his mate, Terry Staker saw the need to bring it to Sale after learning about its concept from fellow paramedic Al Briggs, who previously ran the program when it was active in metro Melbourne.
To be a paramedic, Gossy cites his ability to empathise and show compassion. "You've got to keep an open mind and study hard. Be the best you can be as it is one of the best and rewarding jobs you could possibly have".
In his spare time Gossy and his wife, Miffy have a surprising hobby- the Gippsland Show have awarded the pair with several first-place spots for their tasty home-made preserves, marmalades and breads.
Gossy, you are a legend here at AV. The way you've contributed to your community for the last 40 years through your mental health support, your work as a caring leader and teacher, and you make a mean marmalade.
Congratulations Gossy!
If you live in the Gippsland area and want to know more about 'How Are You Travelling', visit their Facebook page here.