120 new recruits, from all walks of life
June 5, 2020 | in News
Some people change careers for a slower pace. Some come to Ambulance Victoria to kick it up to the next level.
Being recruited during a pandemic might be exceptional for some, but not our newest paramedics.
The 120 new recruits who joined AV this week represent Victoria's diverse community – of all ages, experiences and from all walks of life.
They've left established careers and overcome obstacles to pursue their true passion: serving the community with world-class health care at a world-class ambulance service. Or as we know it AV, Best Care.
Daniela Miles is one of them, becoming a paramedic at 47. Despite becoming a seasoned IT professional and busy mum, her fascination for health and biology never waned.
"The trigger for me was working in the Emergency Department and starting to think that I could do that job," she says.
After "researching it for a year," Daniela started a Bachelor of Paramedicine. After a rocky start and deferral, she realised how much she missed learning and went back to finish her course.
Gracie Chandler is ready to hit the road
Growing up with an unwell younger brother led Gracie Chandler to "look up to … paramedics, as they calmed and nurtured our family in stressful situations."
After following the St John's Ambulance pathway at high school, studying nursing and raising twins, Gracie is ready to experience the complexity of cases that AV attends each and every year.
"Paramedicine for me, is the best opportunity to do your very best in leaving someone better than when you found them, where every day I get to help someone on their worst day, become better."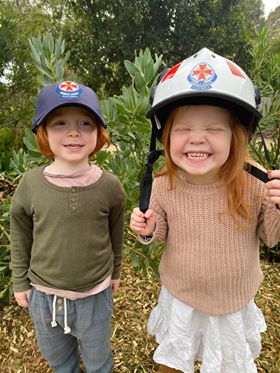 Gracie's twins are her top fans
Simone Hanlon has made possibly the most significant career transformation of all.
Previously working as a flight attendant and going through a marriage breakup, she took stock and set out to fulfil her dream: to become a paramedic.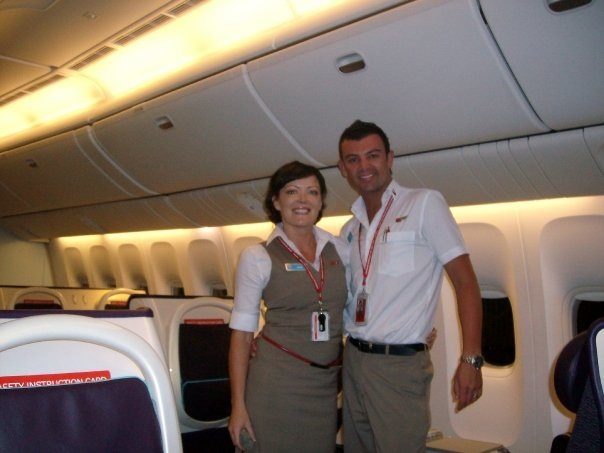 Simone Hanlon working as a flight attendant in 2009
It was a busy journey as Simone combined uni full-time while working part-time in border security.
During that time, she also worked for non-emergency patient transport, where she fell in love with helping people because "I know it makes a difference to their lives".
Simone's favourite patients? "The oldies!"
It's an obvious soft spot for Simone, who says that "listening to them brightens the day."
You can judge an organisation by looking at who they attract. These new recruits each show the same passion for helping others, continuous improvement, tenacity in the face of adversity and unswerving focus.